ORJI UZOR KALU, IFEANYI PATRICK UBAH - MISMATCHING FUNDS, MISMATCHING OPPORTUNITIES.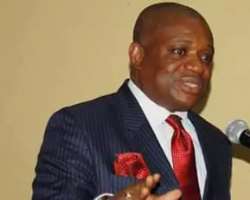 Dr. Cosmas Maduka of Coscharis Group would readily affirm his business relationship with Dr. Ifeanyi Patrick Ubah of Oil Force Limited is his worst since his decision to be an entrepreneur. He had recently made a veiled remark to that relationship in a recent interview he granted a Nigerian tabloid. This morning, I recalled the mild drama which played out on AIT when the Nnewi born multi-billionaire took to the media to narrate what he considered as a genuine attempt to help his younger brother. That episode of his narration was touching but I think it was equally one-sided.
Dr. Ifeanyi Patrick Ubah fits the description of an ancient warrior with several scars which testify to the many battles he had fought and survived. East of the Niger, I'd place him in the same rank with Dr. Orji Uzor Kalu even though the later is a more experienced fighter.
I consider myself as qualified to make an input in the Maduka / Ubah face off. At the point when the deals which went bad were consummated, I was on the staff of a party to the (conflict). That placed me in a position to have better understanding of what went wrong, when, where and how. Facts at my disposal therefore enabled me conclude that the issue at hand was an incidence of a mis-match of funds. Dr. Ifeanyi Patrick Ubah invested funds acquired on a short term basis into long term projects.
Mis-matching funds is as painful as loosing it. I have understanding of its implications having been a victim myself. In my instance, I had acted on the advice of a (professional) consultant handling a project on the strength of which I obtained funds on a short term basis. Before l acted, the Saraki/Tinubu face-off was not foreseen. It was also not envisaged that President Buhari would form a cabinet late. By the time these events unfolded side-by-side the yuletide, my obligations to creditors matured! As I write, the project into which funds was committed is yet to near 10% completion.
Of course, my creditors kicked and kicked. My credibility was questioned and several negative insinuations were made. At a point, I confided in a friend Sani Muhammad that I wished my creditors would petition the Economic & Financial Crimes Commission and/or the Special Fraud Unit of the Nigeria Police about me. I earnestly prayed for that day to come because if they did reported me, within 12 hours............
Doing business in Nigeria is tough. Besides having to pay for every service, one is usually at the mercy of associates, government, bankers and other businessmen who have little or no integrity. Time and agreements are never kept and of course, every business partner has a right to owe you big cash without bothering. The value chain concept is alien to us and business ethics is non-existent. These of course were the crux of the face-off between my leaders - Drs. Maduka and Ubah.
As a matter of fact, like me, Dr. Ubah is largely misunderstood. In 2007/2008, he was a premium customer of defunct Intercontinental Bank Plc., Olodi Apapa branch precisely. During that period, yours sincerely, as an intern at the Risk Management Group of the same institution would receive several Credit Request Summaries bearing his application for loans running into billions of Naira. I once asked Kenny Modupe Asagba (his account manager) what he needed all the cash for as I thought he didn't need the much he was requesting for to trade. Kenny opened up with a simple reply "Ifeanyi isn't trading. He is building structures. When the structures are in place, He will do business." Indeed, nothing else could better describe what Dr. Ubah was doing at that time! While Femi Akinrutan, Sarki Yahaya Suraju, Ike Okolo, Emmanuel Iheanacho, Tunde Folawiyo, Razak Asorire were doing brisk trading of petroleum products, Ifeanyi, led by foresight and vision was building tank farms, jetties, trailer parks and other structures. Today, he is the giant!
As an (over) ambitious youth - a category I prouldy belong to, enthusiastic about starting new businesses while managing existing ones, it is nearly impossible not to mis-match funds. When it happens, insults will emerge. Threats will be issued. Relationships will break. Friends will become arch enemies and even relatives will bay for the blood of one another as Dr. Ubah once did to a very close (male) member of his immediate family who "played him". Only time will remedy this situation. While it lasts, bear the pressure with good cheer like I'm doing.
The faceoff between Dr. Cosmas Maduka and Dr. Ifeanyi Patrick Ubah is therefore not strange to me. Shortly, these men, known for their possession of the famous Midas touch will bury their differences and achieve greater things together or individually. One thing I know as a matter of fact is that Dr. Ifeanyi Patrick Ubah is no thief nor dubious businessman. I must however disclose that not everyone will recover from every occasion of mis-matching funds. Some may even go bankrupt eventually.
Dr. Orji Uzor Kalu may not have been known to mis-match funds but he mis-matched an opportunity to emerge senator. In 2007, he had a cult like follower-ship in Abia State. The Peoples' Democratic Party had just Chief Reagan Ufomba and a few other money bags of the Abiriba/Ohafia extraction as financiers. They called the shots and determined who got what. The ex-governor should have exploited this advantage. He'd rather prefer to take a shot at the presidency on the platform of the Progressives' Peoples' Alliance. Of course, his loss was not surprising but the speed with which he retained Abia State and annexed Imo State was instructive. Though gone with the wind of time, Dr. Orji Uzor Kalu remains an enigma and the undisputed godfather of Abia State politics.
Having just emerged from a self sponsored election for a seat in Senate where he lost to Senator Mao Ohuabunwa; a major beneficiary of his large heart by less than 200 votes, it is time for the maverick businessman to translate to a pan-oriental statesman like His Excellency, Sen. Ken Nnamani GCON.
A man of vast knowledge and business interests, Orji as he is normally referred to by "umu Aba" is restive. Naturally, he is propelled to thread where angels fear. As executive governor of Abia State, he would drive himself through the streets of Aba to the Aba sports club unaccompanied by guards. Before that time, as a multi millionaire, he would rather make a trip to Aba by night via (the now rested) Oha Motors than miss a political meeting the following day.
Orji's commitment to his causes is legendary thus like Bola Ahmed Tinubu and High Chief Gabriel Igbinedion, he made from his followership men of strength & great means like current governor Okezie Ikpeazu and his predecessor Theodore Orji, current senators Mao Ohuabunwa & Enyinna Abaribe, Prince Paul Ikonne, Hon. Eziuche Ubani, Hon. Uzor Azubuike, Rt. Hon. Stanley Ohajuruka, His Excellency, Acho Nwakanma, Comrade Chris Akomas & Late Chima Nwafor, Sen. Chris Adighije and a host of other frontline Abia politicians; a lot of whom are his arch rivals in this political dispensation.
Everyone can be in government as anything, yet only skilled individuals can be leaders. This is the area where Abia State is yet to catch up with its peers. Unfortunately, no political figure known to me has capacity to provide the kind of leadership that is needed because every notable politician is out to jealously guide his/her access and link to government house as guaranty of the next meal ticket. This broken link caused the disaster government of T.A. Orji to operate unchallenged for 6 years and unless fixed will be a catalyst for the failure of the current government. Orji must rescue this situation.
The Ken Nnamani centre for leadership and development has consistently taken steps to expand our national discussion on essential issues related to electoral reforms and constitutionalism. In 2014, Sen. Ken Nnamani led the National Stakeholders Forum on Electoral Reform to engage former president Goodluck Jonathan GCFR on salient issues which sought to ensure that the 2015 general elections were conducted in a credible and acceptable manner. These patriotic acts has at each point in time have moved Nigeria towards political stabilization which in turn cannot be divorced from the peace and unity; though fragile that is experienced to date. This is a rare kind of leadership; the kind Dr. Orji Uzor Kalu must start providing in Abia State for the benefit of all.
As former chief executive, experience has equipped him with relevant knowledge of the government systems thus putting him in a best position to intervene in a wide range of matters. His vast network of friends and contacts if deployed will boost the commercial viability of Aba above and beyond any plan(s) of the state government. Orji can highhandedly breath fresh air into infrastructures and give IGR generation a boost. It will therefore be the height of folly for the Peoples' Democratic Party in Abia State to spite him as some urchins are doing on social media.
Dr. Ifeanyi Patrick Ubah and Dr. Orji Uzor Kalu are two of a kind whose administrative prowess and business acumen have brought pride to the East of the Niger and Nigeria as a county. These two must urgently rise above political affiliations or loyalty to any political party. They must chart a course for the progress of Nigeria and start off from the South East. They must replicate themselves in manifolds all over Nigeria and take their rightful place as pan-Nigerian statesmen of oriental origin.
Ezeani, Chukwunonso Elvis is an avid thinker, reader & researcher. He tweets @NonsoEzeani1