Photos From Soul Singer Gt Da Guitarman & Heartthrob Annie's Intimate Introduction Ceremony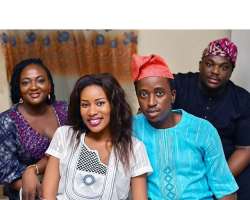 BEVERLY HILLS, March 09, (THEWILL) – In January, soul singer GT Da Guitarman real name Gbemiro Tokunbo proposed to his longtime girlfriend, Annie.
Now the lovebirds are gearing up for their marriage and have just concluded the first step, the introduction at the bride's hhometown in Nwenyi, Ebonyi state. We especially love the bride-to-be's look, a female version of the Dasiki in white.
See photos from the intimate affair below!

Photo credit: Instagram @gtdaguitarman