Buhari's Change!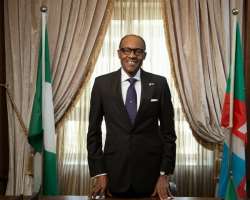 Nigeria is a country whose social fabric is tightly bound by politics, but loosely held together by conceptual cohesion. That is why any single opinion that directly or indirectly endorses the actions of government officials vis a vis their impact on the citizenry, is often viewed by social critiques as a public display of partisanship. What they forget so easily is that amidst the natural struggle for survival on earth, life has an infallible pattern of maintaining order.
There are age long principles that can never be destroyed on the pedestal of man-made stagnation, and one of such is change. At some point in the making of society, the status quo must be weighed on the scale of reason; there ought to be a balance between cause and effect.
Man is an intelligent being, hence, his actions and inactions must satisfy simple standards of life. This is simply what led to the eventual emergence of Muhammadu Buhari as the President of the Federal Republic of Nigeria. The country was in dire need of salvation from the burden of bad leadership.
Now, before we proceed, we must draw parallel lines between the assertions of three sets of people as it relates to Buhari's performance so far in office.
Firstly, there are those who Mr. President can never please. Femi Adesina, the Presidential Spokesman refers to them as Wailing Wailers. These set of people fall between corrupt politicians, backward civil servants, premature elites and ignorant young chaps whose minds have been poisoned with political, religious, and ethnic fallacies.
Secondly, there are those who genuinely care about Nigeria's development, but lack any iota of trust in public officials, due to long years of government's abysmal failure. These set of people are very important to the system. Their criticisms are always filled with challenging doubts, rather than misguided emotions. They have the potential of spurring a listening leader to excellence.
The third set of people are those who aggressively desire change for Nigeria, and whose faith in the proven ability of an incorruptible general has remained unshaken for decades. These are the main propellers of change, they are the real followers of Buhari. Many call them fanatical Buharists, but I call them conscious beings. They are men and women who realised long before now, that social order rather than chaos, is the panacea for the various plagues that has bedevilled Nigeria.
The Treasury Single Account (TSA) issue is a clear reflection of Buhari's strong willpower. This policy even though conceived by the former administration, couldn't have succeeded if not for Buhari's timely intervention. Previous governments where either dipping their hands in the hot pot of graft, or they were too weak in enforcing a programme that has laid blockades on the wastages and leakages that ruffled the garment of our economy. Within the last eight months, by simply adhering strictly to TSA, Nigeria has saved over three trillion naira. Quite amazing.
Whatever the case might be, Buhari's change still has a legally recognised period of time during which intellectual and moral assessments must never cease. Within the next three years or so, Nigerians must keep attentive ears and vigilant eyes on the workings of a government whose mantra is change.
~ Solomon Okocha writes from Ado-Ekiti, Ekiti State, Nigeria.
Disclaimer:

"The views/contents expressed in this article are the sole responsibility of the author(s) and do not necessarily reflect those of The Nigerian Voice. The Nigerian Voice will not be responsible or liable for any inaccurate or incorrect statements contained in this article."