Campaign Against Shiite Extremists Launched In Lagos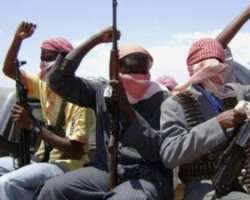 A group of Nigerians under the auspices, Nigerians United Against Terrorism has launched a social media hash tag #KickAgainstShiiteExtremismTerrorism to further condemn and discourage the activities of extremist groups in the country.
The President of group, Jude Feranmi who led other members of the group to launch the campaign yesterday in Lagos and Abuja simultaneously said from what he has seen, Shiites are mere common criminals disguising as adherents of a brand of Islam.
He said Nigerians must not take the threat posed by this group lightly because in the aftermath of their attack on the Army, they have issued video in which they threatened to unleash mayhem on the entire Nigerian state, whose authority-like Boko Haram can't be recognized.
Speaking at the launch, Feranmi said Nigerians must unite to defeat any form of extremism in the country, saying that experiences from the Shiite sect has shown how extremism breeds violence.
He said, "the launch of hashtag #KickAgainstShiiteExtremismTerrorism is a watershed in citizens' contribution towards creating a secured Nigeria that is not at the mercy of terrorists.
"Do not be disappointed that we do not have any tangible to show you as you would have witnessed at the launch of a new building, product or any other thing with physical attributes."
He explained that the launch underscores the essence of Nigeria's unity and its supremacy over every form of worrisome terrorism, stressing that as the war against Boko Haram insurgents is being won in the north-east of the country, the consciousness Nigerians must be awaken to every other form of extremism that might crop up again as opposed to in 2009 when lack of vigilance allowed terrorism to gain roots.
He said, "#KickAgainstTerrorismShiiteExtremismTerrorism is a movement with a campaign to proactively act in manners that ensure extremism is not allowed to grow into full blown terrorism.
The campaign is driven by social media activists, bloggers and other well meaning Nigerians that are committed to safe and united country. In addition to what we are doing here today, we have resolved to launch street rallies in Owerri, Imo state and Port Harcourt, Rivers state against threats of terrorism to our country in pursuit of our determination that Nigeria remains peaceful."
According to him, the launch is a pointer to the world that Nigerians have collectively resolved to defeat every content of Boko Haram and their building cells. This is our contribution towards dismantling the terror group's mystic. Proactively, we are also acting to prevent the Shiite Sect from remaining on the path of extremism, we are committed to ensuring that the Shiite Sect is not allow to militarize as being currently pursued by some of its leaders.
He said, "This is Nigeria, our constitutionally secular Nigeria. No group of persons or individual should again contemplate taking the nation through the horrors unleashed by Boko Haram again in the name of religion.
We must at this stage commend President Muhammadu Buhari, whose purposeful leadership heralded the containment of Boko Haram terrorists in record time and will facilitate their eventual defeat. The information available in the media and from people who have visited places that used to be hot spots indicate that displaced victims of the insurgency are now returning to their towns and villages to rebuild their lives with support from the Federal, State and local governments.
"Even with the uplifting news, , we cannot however afford to shut our eyes to emerging threats of extremism from the Islamic Movement in Nigeria, which also goes by the name of Shiite Sect. Available information and trend show that the terrorists are now regrouping under the leadership of the sect's leader, Mr Ibrahim El-Zakzakky, a Kaduna state based Islamic scholar. We strongly believe this should not be dismissed as an issue for the army alone to handle. The federal government needs to act NOW."