An Address By Her Excellency Chief (Mrs.) Ebelechukwu Obiano, The Wife Of The Governor Of Anambra State On The Occasion Of The Commemoration Of 2016 Mothers' Sunday Of The Anglican Communion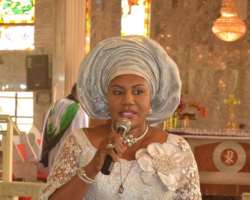 Protocol
It gives me much pleasure to address you on this occasion of the commemoration of 2016 Mothers Sunday of the Anglican Communion. Ndi nne, Praise the Lord! I thank God Almighty for bringing us together in his presence to celebrate. I also thank His Lordship, the Bishop and my sisters, mothers of the Anglican Communion for inviting me.
Umu nnem, this is a very important day in Christendom and in the global calendar of events concerning women. This is because, it is not only a day to celebrate motherhood but also a day to pause and ponder the awesome role of women in God's plan for His world. Truly, sincerely, can anyone really imagine a world without us, without women, without mothers and without our beautiful daughters? Can anyone visualize what it would be like? That is why it is imperative that today, we do not only celebrate our mothers but we also reflect on our role as mothers, home-builders and care-givers who lay the moral foundation for the future while working assiduously to enthrone peace and progress in our society today.
As you are probably aware, the administration of my husband, Chief Willie Obiano will be two years on March 17, 2016. That also means that I have had almost two years of close interaction with you in my capacity as the wife of your governor. In this period, we have prayed together, hoped together and celebrated together. I am therefore, a witness to your perseverance in prayers and your belief that our beloved state needs the favour of God. Therefore, I can boldly say that my husband owes his achievements for which he was recently honoured as the Best Governor in Nigeria, to your prayers and to hard-work. Yes…I have no doubt whatsoever that my husband's recent recognition is proof that God answers prayers! Anakukwa aka ebea?
Umu nnem, I urge you to stand strong in prayer and never forget to commit our leaders and their families into the hands of Almighty God, especially in these trying times for our country, Nigeria!
On a personal note, you may recall my promise that I would be the voice of women to my husband. I make bold to say that I have kept my word with the activities of the Caring Family Enhancement Initiative (CAFÉ), the NGO that I founded in August 2014.
So far, CAFÉ has continued to provide succor to various women and needy groups. We have committed resources to empowering them with the capacity to earn a living. CAFÉ has touched lives in different ways but the most memorable are; Housing for indigent widows in each Senatorial Zone, new skills and empowerment training for over 600 women, prosthetic limbs and Wheel chairs for 700 persons; free cleft lip/cleft palate surgeries, the rescue and care for mentally challenged and the building of Toilets in our rural Markets amongst other programmes. All these charity projects by CAFÉ are made possible with donations and the support of Ndi Anambra.
Ndi Nne, I want us to know that although we cannot remake our world completely, we can all make a difference by reaching out to touch our neighbours profoundly. There's so much poverty around us that a little act of kindness can make a world of difference in our little corner of the world!
Finally, I want to assure youthat I am committed to programmes that will promote women empowerment and help our women to play effective roles in our communities and the larger society. At whatever level, let us get ready to collaborate with groups and organizations in churches and as cooperatives because with collaboration the scope of our impact is usually bigger. On this note I wish you all a happy Mothers' Day!
Daalu nu.
Thank you and God bless
Chief (Mrs.) Ebelechukwu Obiano
Wife of the Governor of Anambra State