Open Letter To Countryman HE Governor Henry Seriake Dickson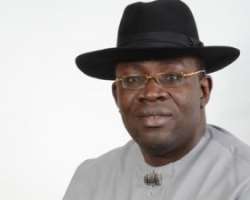 Compliment of the time your Excellency sir,
I as an active Bayelsan youth who wants nothing but a BETTER BAYELSA after much observations have watched, studied the times and have now decided to use this means and medium to reach you, bearing my mind that posterity will judge everyone of Us for the roles we had or currently playing for the uplifting of our state irrespective of where we find ourselves, and for the fact that Bayelsans are indeed need of a David who must be driven by vision and quest to better his land and people.
Just as I once deed in my Epistle to you in January am writing this to you not as a perfect Bayelsa Youth but as one who wants a BETTER Gloryland for generations to come.
I have been privileged as a youth to see and follow even very closely some of the various past governors of our state for the past 18 to 19 years, right from it's creation in 1st October 1996 with the first military governor Philip Ayeni down to our first indigenous executive governor DSP Alamieyeseigha, yet our state has not in any significant measure moved from its shadow of underdevelopment, infrastructural deficiencies in all sectors as it were before it's creation.
Right from it's time of creation, Bayelsa has never been an industrial state neither has there been any significant evolution of businesses that could boost both job creation/employment and increase relatively our position as a state with one of the lowest internally generated revenues in the niger delta., rather the opportunities that the creation of Bayelsa State and even democracy has brought for our people and Lands to choose/have her own sons and daughters govern them has achieved far more less or better still just this one thing, which is "making a few who had the opportunities to hold in trust political power and position multi millionaires and billionaires" as the case may be while the people continue to wallow in Neglects and abject sufferings.
Bayelsa State was created along other states in 1996 but peering those States with Bayelsa side by side despite the huge Federal government allocations, excess crude revenues among others in the past years which all those other state created along with her never had .
These resources no matter how huge or small they had come has not in any way reflected on our development both as a state and a people, instead this has only shown to us and the whole world the greedy, self serving parochial interests of all those who were and still being given the opportunity to serve and man the affairs of our state and it's resources.
Right from 1999 when we had our first indigenous governor till date, nobody has fought these hard to get re-elected for a second term as you deed thereby breaking that jinx according to many, but I must tell you that these record costs us lives, valuable lives and fortunes paid, these sacrificial prices for your emergence which yes you struggled very hard to get as a politician of the said time should not be wasted on political scheming, propaganda and self serving parochial interests.
Sir from your first term to date, your administration has not in any significant way or measures done more than the first executive governor DSP Alamieyeseigha whom I considered as the only governor that has tried by putting up structures that almost all other successive administration struggled to build on, though compared to the resources at his and their disposal a fare disappointment is what we got as a people and state.
Your Excellency, when you emerged as Governor in your first term, many saw it as an extension of the opportunistic greedy political elites, who have always decided who emerges as Governor and thereby positioning themselves to push and encourage the Deeping of hands collaboratively into our collective state resources and allocations just for their satisfaction and the fattening of themselves, family and political associates.
Well, that's an episode for another time.
But, while you managed to please most of your political associates and sponsors in your first term , you left the people particularly those trying to survive in the rural creeks and villages in total abandonment, our timid youths were left to wonder when and how long things would remain this way, paddling the same boat of stagnation and pity while successive leaders enjoys themselves in Creek Haven.
You traveled the entire Europe and South Africa at a point looking and scouting for "investors" you even went further to establish investment offices opened and funded them in these foreign countries. You and your entourage of senior and respectable Bayelsans used the scarce state resources for all these expensive "investors scouting expeditions" With billions of dollars stacked and spent with no returns.
I could still remember how you flamboyantly hosted the south African first lady and her ambassadorial entourage with hundreds of investment and partnership promises plus MoU signed but till date we as Bayelsans are yet to know what all that translated into, or maybe it was just to compliment the rich content of the transformation TV series.
Our Countryman governor sir, it amazed me when the "flyover project" trend all over the media in the country like it was a connecting flyover of Yenagoa to Ekeni, Akassa or Agei while States like Anambra with no crude oil money had bigger projects like that constructed and commissioned with no media over fogging it but the azikoro flyover media hype got me thinking if really we were going to have or get any bigger project since this was given all the rating and publicity of sort with a very huge tag already attached to it long before it commissioning.
Sir in as much as I have congratulated you on your second term, I want you to know that it came with a mixed feeling considering the fact that so much was not said by you about alleviating the sufferings of our people during your campaigns.
Your second term elections came with mixed feelings too considering the fact that your major contender was not really a choice for many who feel he contributed in no small measure too to the stagnation of our state because he had not done any better and nothing would have probably stopped him from being the people's favourite across the state, but lo like others after him, he only succeeded in getting wealthier as an ex governor while the state and people got worst services as a leader and these gave most of the people no choice but to continue with you for a second term.
Yes, though your first tenure was like that of Saul in the Bible who started well but at a point was more concern about controlling power blocs and establishing your family in wealth while the people continue to roast in hunger, I believe your second term can be better with a 360% turn around of both leadership, development and management of our declined scarce resources to the sole benefits of the people and state.
Well, many of us despite the ill treatment we got from you in the time past still stood our ground against the worst coming back to Lynch our state and that paved way for you though bloody, you clinched the second chance card to correct your mistakes and redeem yourself from the "Poor Leadership syndrome" that has eaten deep and characterised or is now been associated with almost all our past leaders from the local government, the house of assembly and governors, acting or elected.
Just as I pleaded with you in my Epistle to you a month ago before your swearing-in, am pleading with you again to drop a landmark, am reminding you once again that history will not judge you fairly if you end up like soul in the Bible who was given a chance to redeem himself as the greatest king of Israel and favourite of both the people and God but due to his lack of vision, greed and pride he lost it.
Thereby giving David the son of a poor Shepherd, a nobody from a small tribe and kindred that no one knew the chance and privilege even without any military and leadership skills and abilities to emerge and later became the greatest king ever in Israel becoming the favourite both to the people and to God, till this modern day he's still being celebrated and revered with his grave assuming a sacred place and sight of value, so while sauls reigned and his name and memory just mentioned in the stories king David's own becomes a Legacy that can never be forgotten for many generations to come and for forever .
Former governor and now Senator Godswill Akpabio of Akwa Ibom state will continue to remain a force to be reckon with in that state not because of oratory prowess and charisma but because he left a legacy through he's developmental leadership that cuts across the entire state which can never be forgotten, he has laid a landmark which others must continue to sustain and improve.
Your Excellency sir, you've always appointed hundreds and thousands of people and in most cases, you end up appointing people who lacks vision and drive to advance our state, making them hold positions and appointment simply because you want to keep/maintain a political structure and bloc.
Sir I want you to learn from the experiences of governor Ayo Fayose of Ekiti State and your brother WIke of Rivers State, that the people are the biggest political power blocs and most particularly youths with vision and driving force to advance the cause of our state and the ijaw nation, these are the people you should make your pillars, start erecting them around the foundation of your government because your legacies will remain in them even long after you must have left office as Executive Governor.
Your Excellency sir, my only advice to you today is "spend and focus more on advancing the infrastructural development of key critical sectors of our state" areas that will drive and have multiple effects across board the development and advancement of our dear state.
And please build leadership legacies in our youths across the state, make them the pillars of your agenda, vision and quest as Governor for the state because by so doing you will become and remain the David that Bayelsans and Bayelsa as a State is yet to have since it's creation.
#God Bless You and Your Government.
#God Bless The Positive Youths Of Our Lands.
#God Bless Bayelsa State And
#God Bless The Ijaw Nation.
Comr DP JOSEPH
7/MARCH /2016
Disclaimer:

"The views/contents expressed in this article are the sole responsibility of the author(s) and do not necessarily reflect those of The Nigerian Voice. The Nigerian Voice will not be responsible or liable for any inaccurate or incorrect statements contained in this article."