Award Organizers Should Have Added Something Extra for Bukky Ajaiyi…Mercy Aigbe Suggests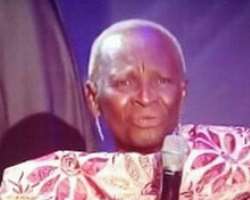 Over the weekend, veteran Nollywood actress, Bukky Ajaiyi, was honoured at the award that was held to celebrate actors in the country's motion pictures for her role in helping pave way for up and coming actors to learn from her and giving the women a voice.
The actress, who has been ill for a while, brought tears down the eyes of many as they never expected to see a veteran like her being honoured.
But for actress, Mercy Aigbe, who thanked the organizers of the awards, also pointed out that the organizers would have done better than just giving her a plaque as they could have attached some other things.
According to Mercy, "Thank you multi choice for celebrating veterans! Those who paved way for people like me in this industry God bless you (thou I felt a little extra something should have been added, asides the plaque)."