Afripol's Emeka Chiakwelu Wins US National Library Award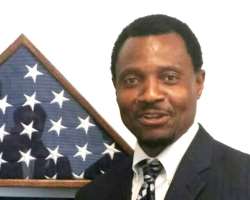 The Nigerian US based intellectual and principal policy strategist at Afripol, Emeka Chiakwelu has been honored and certified with an award on the publication by the United States National Library of Poetry.
The Washington DC based National library has published and documented his writings on the international publication titled – On the threshold of a Dream.
Chiakwelu at the interim is an executive with AFRIPOL- Africa Political & Economic Strategic Center that is headquartered in Houston, Texas.
AFRIPOL is a public policy center whose fundamental objective is to broaden the parameters of public policy debates in Africa.
AFRIPOL also advocates, promotes and encourages free enterprise, democracy, sustainable green environment, human rights, conflict resolutions, transparency and probity in Africa.
Emeka Chiakwelu writings are globally recognized and have appeared in the popular and academic publications including Wall Street Journal, Huffington Post, Forbes and many other important journals around the world.
His writings have also been cited in many economic books, publications and many institutions of higher learning including tagteam Harvard Education.