Mother of abducted Lagos school girl slumps on dashed hopes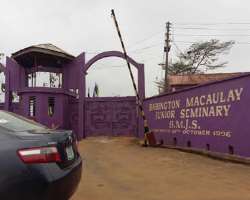 The mother of one of the abducted school girls from Babington Macaulay Junior Seminary (BMJS) Friday slumped and was rushed to a hospital in mainland Lagos.
Timilehin Olosa, Tofunmi Popoolaniyan and Deborah Akinayo were abducted from the classrooms on Monday night by suspected pipeline vandals numbering about 10.
The woman said to be the mother of the girl who has taken ill in the kidnappers' den since Tuesday allegedly collapsed after four days of dry fasting.
It was learnt that the woman's health deteriorated after the girls were not freed on Friday morning as promised.
The woman was said to have had high hopes following assurances from security agencies that the girls would be rescued Friday.
She was said to have been rushed to a hospital where she was treated and released after several hours.
Meanwhile, The Nation gathered that the kidnappers have insisted on the N10million ransom, despite pleas by the woman's family, who it was learnt have raised a million.
'The woman had high hopes that the girls will be rescued last night but when the kidnappers were said to have insisted on N10million, the woman whose family has raised a million Naira collapsed.
'She was rushed to a hospital in the mainland where they leave. She was hospitalised but much later, she was returned home. She has also been fasting since the girls were kidnapped. So far, the kidnappers are still insisting on N10million. They have refused all pleas to accept the one million Naira the family has raised,' said a source.
When contacted, the Lagos State Police command's spokesperson, Dolapo Badmos, a Superintendent of Police said she was not aware of the collapse, adding 'that information is not at my disposal.'
She assured that the rescue efforts have been intensified, adding that the police was hopeful the girls will soon be reunited with their loved ones.