Fuel Scarcity Resurfaces In Delta State Capital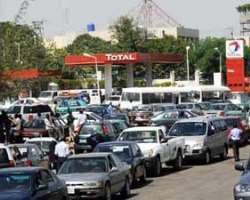 Barely one month after the country experienced fuel scarcity, long queues have resurfaced in most filling stations in some parts of Asaba, the Delta State capital.
In virtually all the filling stations along the Asaba/Benin expressway, Nnebisi and Okpanam axis, there were long queues of vehicles and tricycles, while those who wants to buy in different sizes of gallons were seen struggling to get the product.
The scarcity created a field day for some independent sellers who sells at high cost and are making brisk business by selling to desperate buyers. For example, a four-litre gallon was sold for between N600 and N700, as against the official one-litre price of N86.50k.
A buyer who pleaded anonymity said the Minister of Petroleum, President Mohammandu Buhari knows what to do, "it is not about becoming the President and Minister of Petroleum, he should work hard to ensure that the product is available for the common man".
At Rain Oil, Asaba, where the queue extended to the state secretariat along Mariam Babagida Way some drivers lamented the situation where government official do not have the feelings of the people rather the ordinary man suffers it alone.
They call on the Buhari-led federal government to work round the clock to ensure that the fuel scarcity which has resurfaced was brought to end in no distant time.