NNPC responsible for current fuel scarcity –PTD President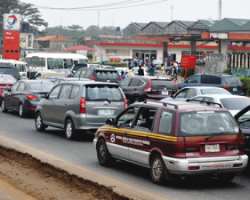 National President, Petroleum Tanker Drivers, PTD, branch of National Union of Petroleum and Natural Gas Workers, NUPENG, Salimon Akanni Oladiti, has accused Nigerian National Petroleum Corporation, NNPC, of being behind the current fuel scarcity in some parts of the country. Oladiti, who said this yesterday while speaking with journalists in Ibadan, Oyo State, said fuel marketers are not hoarding the product.
According to him, the quantity of fuel NNPC is importing into the country is not sufficient. He said: 'We are not conniving with anybody to make Nigerians suffer for fuel. For some time now, we have not been able to load at NNPC depot in Apata, Ibadan and there is no hope of loading in some other NNPC depots in the South West. 'Government is responsible for this problem, because if they bring enough fuel into the country, we as distributors we are ready to sell.
'It is so sad that we are one of the largest producers of oil but we are still suffering.' The PTD boss stated further that presently, 75 per cent of the fuel been consumed in the country now is imported by NNPC, while the remaining 25 per cent is by major marketers. 'You cannot say because you want to manage your resources you will continue to suffer, what the government is trying to tackle still exist, corruption is still in the oil industry. There is corruption, bribery at all the oil depots before you can load your truck,' he added. Oladiti said government needs to find lasting solution to incessant fuel scarcity in the country without further delay, stressing that the common man is suffering. He also urged government to embark on aggressive rehabilitation of roads and railway networks, insisting that many accidents are caused by bad roads, especially for tankers. Speaking on the challenges facing his members, he said: 'If not because we believe in this government, we just want to wait and see what they can do.
Tanker drivers across the country are suffering. Look at Ilorin-Oloru- Jebba road, a distance of less than 60 kilometres, it takes a tanker between five to seven days, to get to their destination, it is a big pity.' Already, fuel queues have emerged in Lagos and its environs as a result of the inadequate supply. The queues started manifesting on Friday, last week. Investigations showed that many marketers did not have the product over the weekend, a development they attributed to inadequate supply. Although NNPC has the capacity to import the 78 per cent of fuel allocated to it by Petroleum Products Pricing Regulatory Agency, PPPRA in the first quarter of 2016, it does not have the logistics and storage backups to ensure the product gets to users. Investigations showed that most of the depots, especially in the South West were in very bad states, which affect storage and distribution. It was also gathered that the depots were also crippled by frequent vandalism of pipelines and other facilities.
Our correspondent learnt that oil marketers who were allocated only 22 per cent in the first quarter fuel allocation have very limited impact on the market. Managing director of one of the companies, who preferred not to be named said: 'We have the facilities to store and distribute commercial stocks of imported fuel but we cannot import beyond our allocation. 'We have completed our importation for the first quarter of 2016. If we have more allocation, we can import. But we are not importing at the moment.' He maintained that it is mainly the NNPC that is involved in fuel importation for now. But NNPC said it has taken delivery of four more cargoes of fuel over the weekend to keep the country wet. The deliveries, which amount to about 180 million litres is part of a new arrangement by the corporation to have a cargo of PMS delivered daily as from March. The corporation, which made the announcement in a statement made available in Abuja yesterday, assured of sufficient supply of fuel across the country.
The statement also quoted Minister of State for Petroleum Resources, Dr Ibe Kachikwu, as warning depot owners against selling petrol above the approved ex-depot price of N77 per litre. The warning comes against the background of repeated complaints by marketers of sharp practices at the depots. The statement quoted the minister as warning that depot owners found to be involved in selling products above the approved ex-depot prices would be severely sanctioned. PPPRA had indicated in a statement that in pursuance of its mandate of regulating the supply and distribution of petroleum products, it has released the Q1 2016 import allocation for the supply of about 3 million metric tonnes of Premium Motor Spirit, PMS. It had maintained that in allocating the Q1 2016 import quota to the NNPC and other marketers, it took into consideration, retail outlets ownership, marketers' performance of previous quarterly allocation, as well as the challenges in sourcing foreign exchange.
The agency had maintained that this measure is to guarantee uninterrupted fuel supply nationwide. It disclosed that consequently, NNPC was granted 78 per cent of the total allocated volume for the quarter, while the balance of 22 per cent was to be supplied by other oil marketing companies. Meanwhile, President Muhammadu Buhari yesterday in Doha, Qatar, said member states of Organisation of Petroleum Exporting Countries, OPEC, and non-OPEC members must cooperate and find a common ground to stabilise crude oil prices. A statement issued by Special Adviser to the President on Media and Publicity, Mr. Femi Adesina said Buhari spoke at a bilateral meeting with Sheikh Tamim Bin Hammad Al-Thani, the Emir of the State of Qatar. Buhari described the current market situation, which has seen oil prices plummet by 70 per cent since mid-2014, as totally unacceptable. 'As members of OPEC and Gas Exporting Countries Forum, GECF, our relations in the areas of oil and gas, which our two nations heavily rely on, need to be enhanced and coordinated for the benefit of our people. 'The current market situation in the oil industry is unsustainable and totally unacceptable.
'We must cooperate both within and outside our respective organisations to find a common ground to stabilise the market, which will be beneficial to our nations,'' the President said on the second day of his state visit to Qatar. Buhari commended the existing cordial bilateral relations between both countries and invited prospective Qatari investors to take advantage of the abundant opportunities in Nigeria and invest in key areas of energy, agriculture, real estate development, banking and finance. He assured prospective investors of government's protection of their persons and investment, noting that in the course of his visit, the delegations from Nigeria and Qatar would formalise at least two bilateral agreements to boost economic cooperation between both countries. Buhari also weighedin on the situation in the Middle East, commending the role Qatar is playing in resolving the present Syrian crisis, the Palestinian cause and efforts in reconstructing Gaza.
The President said: 'The conflicts in Yemen and Syria with their attendant humanitarian crisis need genuine international effort to solve. Nigeria as a peace loving country identifies with the State of Qatar in all her peace efforts in the world to end terrorist activities. 'Nigeria is a victim of terrorism. It is with heavy heart that I stand before you and say activities of Boko Haram have led to loss of many lives and displacement of innocent people in our dear nation. 'We, however, take pride to inform you that since our coming to power, Boko Haram has been systematically decimated and are in no position to cause serious threat to our development programs. 'I wish to reiterate that Nigeria rejects violence and extremism in all their ramifications, and assure your Highness that we are with the State of Qatar in your efforts to fight terrorism and injustice in your region and in the world at large.' Buhari also called for a lasting solution to the Israeli - Palestinian conflict. He said: 'We in Nigeria, like the State of Qatar, favour a 'two State' solution, with the State of Palestine living side by side with the State of Israel. 'I want to assure you that we will stand side by side with you, until our brothers and sisters in Palestine achieve their desired objectives. 'Our support for various Security Council resolutions restoring and respecting 1967 boundaries with Jerusalem as capital of Palestine is firm and unshaken.' National Mirror