Ajidagba And The Advancement Of Ifelodun Politics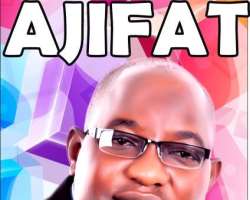 "Be not afraid of greatness. Some are born great, some achieve greatness, and others have greatness thrust upon them-William Shakespeare, Twelfth Night
For over a year now in Ifelodun Local Council Development Area (LCDA) of Lagos State, one young popular clergy and renowned motivational speaker, Rev.Ifeanyi Oluebubejesus(JP) has taken upon himself to identify the spectacular achievements of Hon,Fatai Ajidagba,the immediate past Ifelodun LCDA chairman, by creating a social media platform called'Bringback Ajifat and Ajifat move on 'which has directly or indirectly made Ajidagba popular today in Ifelodun and beyond. Other platforms like ACO youths, Why Ajifat and just mention but a few, has showcased Ajifat's past achievements till date.
Rev.Oluebubejesus must be commended for updating Ifeloduners on the past achievements of Ajidagba and why he intended to run for second term on the platform of All Progressives Congress(APC).In terms of photo editing and Ajidagba's achievements on the social media,Rev.Oluebubejesus has perfectly done beyond media professionals without receiving any dime from the said Ifelodun chairmanship aspirant.
We still have good Nigerians like Oluebubejesus who can sacrifice their precious time and resources to showcase a man who brought political advancement into Ifelodun politics till date. No day passes by without Rev Oluebubejesus commenting on the good works of Ajidagba on the social media platform or using provable pictures to showcase a man who used his three years in office to work for the grassroots.
To me, Ajidagba broke political protocols which no political leader elected in Ifelodun has exhibited before except few ones.Ajidagba's relevance is still noted in Ifelodun after leaving office for the past one year. It is sad that many people are falling into the hands of rumour-mongers in Ifelodun LCDA than meeting Ajidagba personally to hear his own side story.Ifelodun LCDA was one of the underdeveloped LCDAs in Lagos State, until Ajidagba came to rescue the local government from the hands of political capitalists. Though, Hon.Fatai Ajidagba had his own shortcomings in politics but that does not mean, he was a total failure in politics. If an Igbo man can identify the good works of Ajidagba which shows his numerous legacies and cannot be altered in the sands of time, then the sky is just the beginning for a man that has grassroots stocked in his heart. Among all the present contestants in Ifelodun LCDA under the platform of the All Progressives Congress (APC),Ajidagba stands a better chance of clinching the party ticket. For Hon Wahab Adigun,the present Executive Secretary(ES) of the council to complement on Ajifat's legacies shows that the latter met well for Ifeloduners and nothing more.
In Ifelodun politics then, achievements were only seen on the pages of newspapers and Television stations without the people felting it but Ajidagba came and brought some visible developments to the people. Though, some sketchy allegations have been leveled against Hon.Fatai Ajidagba on security threats in Ifelodun but the facts remain that is one viable chairmanship aspirant and politician that lives within the people and invest his resources there to create employment opportunities. All the aspiring aspirants stand a better chance to win the forth-coming local government elections in the state however, Ajidagba has able to convince his veritable supporters that he can be trusted with leadership if nominated to fly the party ticket.
To Mindset Media Limited, we are objective in analyzing political issues in Nigeria when it comes to grassroots politics like this. Some might misconstrue us as supporters of Hon.Fatai Ajidagba, however, his legacies speak for the people. He never joined politics as a penurious man but became an established caring personality with several awards to his credit.Ifelodun politics either PDP or APC should not be run on party but issues that can be politically, academically, morally, scientifically and economically addressed by these veritable aspirants not mendacious campaign machineries. Politics has grown beyond party or personality than fulfilling political promises if elected into power.
Finally, what the people want now in Ifelodun LCDA, aspirants of credibility, accountability, integrity, simplicity, intelligence, transparency and creativity for developmental leadership not throwing political diatribes on each contestant on rally grounds or posters. Blood-letting should not be welcomed in the forth-coming elections than embracing peace in Ifelodun.
Politicians know how to settle their political scores while voters or desperate supporters bear the brunt. Ifelodun supporters should shine their eyes and allow peace to reign in the local government. Social media users of politicians should also be mindful of their posts not to turn Ifelodun into Boko Haram camp. In politics, some are begged to agree or disagree but that should not make Ifelodun LCDA as free for all fight. It is time we voted for those we trusted and believed and nothing more.
Godday Odidi
Social Media Analyst
Lagos
Disclaimer:

"The views/contents expressed in this article are the sole responsibility of the author(s) and do not necessarily reflect those of The Nigerian Voice. The Nigerian Voice will not be responsible or liable for any inaccurate or incorrect statements contained in this article."
Articles by Godday Odidi