PDP alerts Nigerians on fake online membership register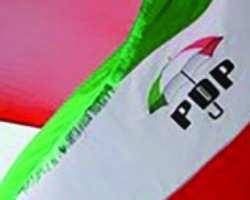 The national leadership of the Peoples Democratic Party (PDP) has alerted the nation of the existence of a fake membership register created by fraudsters and purporting it to be the party's new online register.
According to a statement issued by Richard Ihediwa, Media Assistant to the National Publicity Secretary, the fraudsters had created "a fake online portal: www.pdpmembership.org/registr, claiming to be of the PDP and demanding Nigerians to register as members of the party through an electronically guided form."
The PDP states categorically that "this online portal does not belong to it; is not associated to it, and has nothing to do with it at any level and in anyway whatsoever."
The statement further added: "For the avoidance of doubt, the PDP has not commenced its proposed online registration of members and will adequately and officially inform the public through its relevant organs once it is ready for such.
"We therefore caution all PDP members, teeming supporters and the general public to take note and not patronize this fake online registration portal ostensibly set up by fraudsters to dupe the unsuspecting public.
"Already, the leadership of our great party is contacting relevant security agencies for a comprehensive investigation to unravel those behind this criminal act."
-Emmanuel Ikechukwu