If Life Matters To You, Then Say The Truth And Shun Violence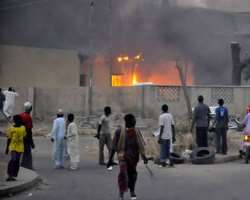 My dear friends in Rivers State. Please, who is to be blamed for the recent killings in Bori and Yehge?
The PDP is accusing the APC and the FG (the Army) of being responsible for it. The APC is equally accusing the PDP for perpetuating the dastardly act. Meanwhile, the PDP campaign office was burnt down as well as the APC liaison office in the area.
Above all, Young people are dead and still dying. Some Young ladies are now widows overnight. Scores are badly injured, many are rendered homeless in the area due to what happened recently. Students are scared of going back to School in that area (the State Polytechnic etc), both academic, economic and social activities have come to a halt in Bori and Yeghe and neighbouring communities.
Yet this blood-sucking political parties and the FG are still accusing one another and making a fool of the general public whilst Young people are dying. Who do we believe, who do we blame? Citizens' lives don't matter to these politricians (tricky politicians), but their self ambitions alone.
Painfully, the so-called Youth bodies and Student bodies and other pressure groups are all mum because they have all sold their souls to either the APC or the PDP, shameful. I think Rivers State is dead. No sane government will support the killing of citizens and no sane citizen will kill his fellow citizen. Why are we so unfortunate to always fight to elect idiots in Rivers State? Idiots whose interest is to cause dismemberment, disunity, bitterness, rancour, death etc and in-turn take undue advantage at the situation to milk the people. When would Rivers Youths learn? When?
Some Young people in Rivers State have become so foolish that an idiot will give them guns to kill another Youth just to protect his greedy political interest. Most of our Youths are so blinded today that they misinterpret loyalty as killing for their political Ogas (masters). Currently in Rivers State, you'll be dead if you dare oppose their so-called political Oga (political master). Where are we headed in Rivers State? Practically, most Youths in the Rivers State of today want to be political sycophants just to survive the political terrain. Still shameful.
It is now a trend. In Rivers State you must possess some very high levels of anti-social traits to be able to win any election. As it is now, in Rivers State if you're not a gun-carrier, if you're not a killer, if you're not a militant or an ex-militant, if you're not a cultist or an occultist, if you do not belong to one 'Ayin Kpere-re group' or the other, you must not even contemplate or conjure the idea of wanting to run for any political office let alone winning that election. This is the current situation of politics in Rivers State. I just wish these guys will all be voted out for peace sake.
Truth is, the political situation in Rivers State is insane and stinks badly. It is either we have the government of wickedness, bitterness and witch-hunt or the opposition of lies, desperation and hate. Where are we really headed in Rivers State? What is our grouse and in who's gross? I repeat, in the end who benefits from all these killings and unrests?
Whilst places like Lagos State is busy industrialising the economy and making the economy independent of politics by encouraging the private sector and individuals. In Rivers State our government (both past and present) have politicised everything that you must be a party man or woman to be able to grow your ideas or even do business. Lagos State is APC-controlled today, but both APC and PDP businesses compete equally. In Rivers State for you enter the bus you must be a party member, there are APC residential zones and PDP-controlled areas in Rivers State. Why are my people so senseless and illiterate, politically? We always smoke the wrong political weed in Rivers State. Our politicians take that weed soaked in stupidity and mixed with Cameroon pepper. If not;
Why kill because you want to be a Senator? Those young men that carried out this heinous act in Ogoni land and those supporting them must be the stupidest souls on earth. I weep for Rivers State, I cry for my people.
I am,
Maobuye Nangi Obu
#ISayNoToKillingRiversPeoplAnywhere