THE KILLERS AND PATTI SMITH RECEIVE SONGWRITING HONOURS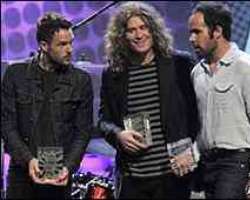 The Killers released their debut album, Hot Fuss, in 2004
Rock band The Killers and pop hitmaker Dr Luke, who has penned songs for Katy Perry, have been recognised at a US awards ceremony for songwriters.
The American Society of Composers, Authors and Publishers named Dr Luke songwriter of the year and The Killers were honoured for their musical impact.
Rock legend Patti Smith won a lifetime achievement award, while Jason Mraz won song of the year for I'm Yours.
The 2008 single holds the record for the most weeks spent in the US chart.
Dr Luke – whose real name is Lukasz Gottwald – has penned hit songs including Katy Perry's Hot N Cold, Flo Rida's Right Round and Miley Cyrus's Party In The USA.
'Trailblazer'
The award for publisher of the year went to EMI Music, which had 15 award-winning songs last year.
ASCAP president and chairman Paul Williams, paid tribute to singer-songwriter Smith, who performed hits including Because The Night at the Los Angeles ceremony.
He called her a "songwriter, poet, trailblazer and rock icon whose creative genius and rock 'n' roll spirit will continue to inspire generations to come".
Smith then returned the compliment, saying ASCAP royalty cheques had kept her going when she was down on her luck.
She added that when she released her first album, Horses, in 1975, she knew nothing about royalties.
"I just thought you did your record and that was it. And the first time I got these cheques, I said, 'I already got paid for that song.'
"So I'm grateful in good times, and I was very grateful in hard times."
Previous winners of founders award, include Bob Dylan, Billy Joel, Annie Lennox, Tom Waits, Stevie Wonder and Joni Mitchell.
Other songs honoured on the night were the Black Eyed Peas' Boom Boom Pow, Jay-Z and Alicia Keys' Empire State of Mind and Beyonce's Single Ladies.