US COURT REJECTS ROMAN POLANSKI'S IN ABSENTIA BID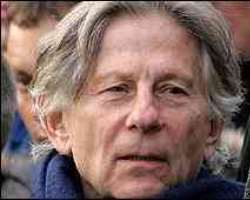 The film-maker is currently under house arrest
A US court has rejected a bid by film director Roman Polanski to be sentenced in absentia for a child sex case.
The move by the California Second District Court of Appeal clears the way for Polanski, now 76, to be extradited from Switzerland to the US.
Polanski has been under house arrest in Switzerland since September facing a US arrest warrant over his conviction for unlawful sex with a 13-year-old girl.
He left the US in 1978 before he could be sentenced and has never returned.
Polanski's attorneys had also sought the appointment of a special counsel to investigate alleged judicial misconduct in the case.
Switzerland has said it will not decide whether to extradite the director until any appeal over his US trial is resolved.
Polanski's latest film, The Ghost Writer, won the Silver Bear award for best director at the Berlin Film Festival in February.