UK BORROWING HITS RECORD £163.4BN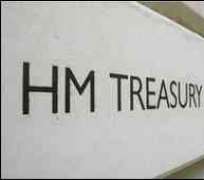 The Treasury has borrowed less than expected this year
Government borrowing hit a record high of £163.4bn in the last financial year, official figures have shown.
The borrowing figure for the 2009-10 financial year is lower than the £166.5bn predicted by Chancellor Alistair Darling in April's Budget.
Including financial intervention measures, borrowing totalled £152.8bn – lower than the £155.9bn forecast.
It is the biggest annual borrowing figure for a UK government in peacetime.
A total of £23.5bn was borrowed in March, the figures from the Office for National Statistics (ONS) showed.
Borrowing in March is typically high as civil servants seek to spend the remainder of their annual budgets.
Total government debt now stands at £890bn – equivalent to 62% of GDP.
The £163.4bn borrowed is equivalent to 11.6% of GDP.
Although the annual figure came in below the Budget prediction, City analysts reacted cautiously.
"The big picture is that this is still the biggest budget deficit since World War II," said Jonathan Loynes, economist at Capital Economics.
Tax receipts rise
"With all parties' fiscal plans based on extremely optimistic economic assumptions and unspecified spending cuts, a further sizeable fiscal squeeze will still be needed after the election, whoever is in charge."
All major political parties have pledged to tackle the growing budget deficit following the next election.
But their plans rely in part on the recovery of the economy boosting tax income and therefore reducing borrowing.
Many view the Treasury's current predictions of between 3% and 3.5% growth in the 2011 calendar year as too optimistic, with an average of City forecasters suggests growth of around 2.25%.
However, the slow recovery so far already appears to have helped cut borrowing. In March, tax income rose by 3.8% according to the ONS.
Income from VAT also rose following the return to the 17.5% rate at the start of the year, and corporation tax receipts were up by more than 50%.