Abia North: Bourdex As A Failed Product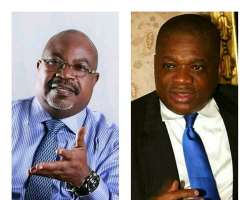 All seems to have been reviewed and analyzed over the upcoming rerun senatorial election in Abia North. Even as such, candidates like former Senator Mao Ohuabunwa and former governor, Orji Uzor Kalu have all been on display as involved with the media, virtually for one negative reason or the other.
While their pointing of fingers against each other has lasted, what kept bugging the minds of the upcoming election's followers is not far from the fact that the report concerning businessman and former Chairman of Bourdex communication, Chief Dr. David Ogba Onuoha has never been to the forum of discourse for proper review.
Being the candidate of the All Progressive Grand Alliance, Chief Onuoha seems to be hiding himself, which however could be traced to the very salient point of keeping his sins in the dark, as against being exposed to the reality of events.
It is a very clear act that Bourdex as he is widely known is hiding himself from the blowing breeze, so not to expose his dirty linens to the public. Be it as it may be, the people of Abia North needs to know the man they may consider as an option, since the fight between Orji Uzor Kalu and Mao Ohuabunwa is still on.
Whenever the name Bourdex comes to mind, the very question that tickles is his position to when his company that would have been the best around the eastern region got sold to Jim Ovia, the owner of today's Visafone. Could our own not have stayed to manage Bourdex communication since he is a successful businessman? Why was Bourdex communication sold to a more refined and competent body?
If our self-acclaimed successful businessman cannot save his dying company, Bourdex, what else can he save? I wonder! To those that care listening, he would say that his company wasn't sold out, but merged to continue striving with Visafone. Story for the gods, indeed. A merged company? What is your stake at Visafone? Who among your old staff got retained by Visafone? Big questions calling for answers!
Abia North would prefer having a politician whose chances of performance is at 50-50 level than a traducer. At least, we can afford having a politician whose weakness can be dictated and touched to call back when the rascality gets much. A businessman? One that will mortgage and sell us off within a short period of time in office? My people, God forbid.
We cannot be flying from the frying pan to fire. We don't need to collapse our structure for an incompetent businessman who would use statements like he has seen it all to lose our last card. If as he claims that he has seen it all, why didn't we have Bourdex in the east as the Yorubas have Globacom? Are we even progressing at all?
Even if we want businessmen as our representatives, we would rather go for Orji Uzor Kalu whose business outfits today can be counted as one of the best in the country. At least, we can point at Slok conglomerates. At that too, we can continue with an experienced politician like Mao Ohuabunwa, who in the next dispensation may have chances of being a Deputy Senate President or President of the Senate itself.
We can't afford gambling with our mandate. Through God's infinite mercies, the Court of Appeal quashed the unscrupulous and fraudulent election, which held against the people's wish, and now, we have a fresh opportunity to choose and vote rightly. We owe it a duty to elect a more credible candidate, and not a power hustler.
Come to look at his campaigns, you rarely see seriousness. It has been the poorest. He was before now hiding under Dr. Alex Otti's shadows, but since after the Supreme Court judgment, Bourdex is confused and empty. His hired crowd is made up of touts and hawkers on the streets, mostly from outside Abia state. His earlier attempt to extort money from Mao Ohuabunwa failed, and recently, he has been calling for secret meeting with OUK who is the most popular candidate in the race whose court action single handedly brought about the cancellation and rerun.
Bourdex's gimmicks and politics of "Pay Me and I drop" is outdated and has leaked thus the rumour that he has dropped his ambition. All efforts to refute that has proved abortive as his tendencies are already known to Ndi Abia North. If he could sell Bourdex Telecom and squandered the money in marrying eight wives and other frivolities, what is Abia North's Mandate that he won't sale? Even with eight wives, he still has numerous concubines, mostly over sixteen school girls from nearby Secondary schools.
His scanty campaign crowd is not far from his pompous, arrogant and high handedness. He can't even hide it one bit. Even the sound of his footsteps brings rudeness in display. A man who does not allow his in-laws to visit his house cannot grant Ndi Abia North access to the dividends of democracy if he goes to the Senate.
Written by Ifeanyi Asomugha Ugwuh from Umuahia, Abia