Amodu Sheriff is best leader for PDP in present circumstance: Gov. Fayose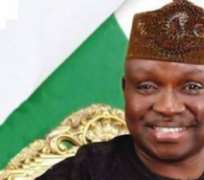 As anger and growing concerns mounts among members of the Peoples Democratic Party, PDP, over the appointment of Ali Modu Sheriff as National Chairman, Governor Ayodele Fayose of Ekiti State on Monday solicited for support from stakeholders.
He was emphatic in saying that their supports were needed for the party to meet its desired goal of taking the mantle of leadership from the ruling All Progressives Congress, APC.
"His (Sheriff's) emergence at this time is the best thing in the present circumstance and those aggrieved should sheath their sword and deploy their time and resources into fighting the All Progressives Congress (APC) instead of their own party," Fayose begged.
"It is regrettable that those who abandoned the PDP to its fate when it lost power and did not say a word to defend the party have now found their voice against a decision taken in accordance with the party's constitution.
"With my antecedent as someone who has always defended the party, I can't be linked with any decision that will not be in the best interest of the party.
"I therefore call on all my admirers and believers in my dogged fight for the revival of our party to support our new chairman, whom I believe has the required capacity to reposition the party," he added.
In a statement released by his media aide, Lere Olayinka, Fayose described those linking the new chairman with Boko Haram insurgents as mischief makers, asking; "has Ali Modu Sheriff been tried and convicted by any court for sponsoring Boko Haram? Is he even being tried for involvement in Boko Haram activities?
"Even APC Senator Ali Ndume is being tried for allegedly making contacts with the Boko Haram sect 73 times and he is still the Senate Leader.
"Also, Ali Modu Sheriff and their 'Saint Buhari' are in-laws courtesy of his (Sheriff) son's marriage to Buhari's daughter and no one has called the President a Boko Haram sponsor by association. Or are they also saying President Buhari could have allowed his own daughter to marry the son of Ali Modu Sheriff if he was indeed a Boko Haram sponsor?"