We Have Effectively Curtail Boko Haram Freedom Of Movement—Chief Of Air Staff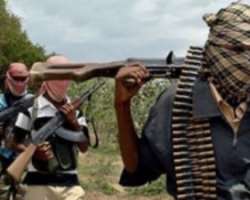 Nigeria Chief of Air Staff, Air Marshall Sadiq Abubakar, said that the Nigerian Air Force (NAF), has successfully checked Boko Haram freedom of movement.
Abubakar made this known Friday in Yola, at the commissioning ceremony of some projects at the Yola Air Force Base.
"The NAF has degraded the capacity of the terrorists and curtailed their freedom of movement.
" We will continue to meet our statutory responsibility of defending the territorial integrity of the nation, whether acting singly or in unison with surface forces and other security agencies." Abubakar said.
Abubakar noted that the Yola base was was strategic in the ongoing fight against insurgency hence the need to provide it with facilities inline with ongoing repositioning of NAF.
Abubakar said the ongoing repositioning of NAF was part of his administration's vision for a highly professional and discipline force through capacity building initiatives for effective, efficient and timely employment of air power in response to Nigerian's national security imperatives.
About 9 projects including Flight Line House, Based Defense Coordinating Centre and Ammunition Dump were inaugurated at the commissioning ceremony conducted by the Chief of Defense Staff, General A.G Olonisakin.