Tambuwal Holds Low-key Wedding to Second Wife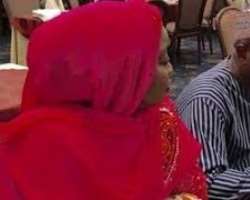 The poor economy appears to be taking a great toll on state governments as hopes of friends and political associates of Sokoto Governor, Aminu Waziri Tambuwal, to enjoy a lavish wedding ceremony for his new wife, Maryam Mairo-Mustapha, were dashed Friday after the couple's families opted for a private ceremony.
Tambuwal took mallama Mairo-Mustapha as a second wife penultimate in Kano,
A very confused associate, who made the trip to Kano from Yola Adamawa state to kano, was left bemused after he was informed that the modest ceremony will involve only ladies and close family members.
This is not how Governors wed the associate, a former member of the House of Representatives, said.
Even though I know the situation is a bit hard in the country, I expected a ceremony befitting his status as Governor. Even though we came from far for this, we will respect his wish and pray for a matrimonial bliss for his new family."
Reporters in Kano had a hectic time trying to identify the venue of the wedding activities. When they eventually did find it, it was at a family home of the Mustaphas in Nasarawa area of the city.
Reports indicate that a small number of 'women-only' IVs were sent out few days ago for the ceremony in Kano to prepare the IT and Oil and Gas executive for the journey to her new home.
Even in Sokoto where Tambuwal is the Governor, many were not aware of the Kano wedding. A senior female civil servant, who declined to be named, said after waiting for official notification of the wedding, they gave up and decided their presence may not be needed after all.
We actually organised ourselves waiting to be part of the wedding activities. Some of us even prepared what to wear but yesterday we were told it would be a private wedding and that only family members will attend.
What is the point of attending an event you are not invited. We didn't begrudge the Governor. It is good he has shown to us that he is a man of modesty and we wish him success in his marriage, the Director in one of the ministries, said.