I am supposed to have four wives… Baba Wande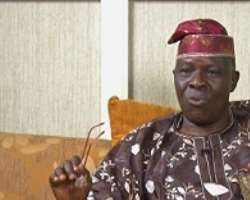 Veteran actor, Baba Wande, is a household name in the industry. The actor is still very relevant in the industry.
The actor who is very happy at himself for choosing acting as a career, mentioned many doors has been opened for him through acting. He further said the love and attention he gets at public places is vaccinating.
The actor is known for his comic roles in movies, there hardly any movie he featured in , that he doesn't manage to leave people laughing and almost rolling on the floor.
There is no doubt that the actor is talented, and he is not allowing aging slow him down in any way, as he is still very active and waxing strong as the day goes by.
In a recent interview, the actor revealed that he doesn't drink, but he is a polygamist. The actor already has two wives and hasn't decided if he would marry more or not. He further said womanizing is peculiar to the profession of acting and that has left him with lot of female friends
"I cannot lie about it. Any man, especially those in this kind of profession like ours will have female friends and admirers. I have two any plans to marry more? I may and I may not. I am a Muslim and by right, I am supposed to have four wives. If I have more than four that means I have derailed from the word of God but if it is four, I am still on course"