Senate President, Bukola Saraki Is Keynote Speaker At StateCraft's Governance Communication Masterclass For Social Media Week Lagos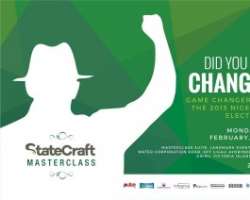 Nigeria's Senate President, Dr. Abubakar Bukola Saraki has been confirmed as Keynote Speaker for the forthcoming Governance Masterclass by StateCraft Inc. tagged 'Did You Say Change? Game Changers of the 2015 Nigerian elections.'
The Masterclass - organized by StateCraft Inc., the governance communication arm of RED and official communication agency for President Muhammadu Buhari's 2015 election campaign - will explore the intersection between media, business and governance, and will share strategic lessons from the historic campaign; for media professionals, communication agencies, public relations consultants, public affairs managers and information custodians across the Nigerian public and private spaces.
It is one of the official events at Social Media Week Lagos 2016.
"We are delighted to have Senator Saraki as the keynote speaker at the Masterclass engagement," says Remi Ogunkayo, Group Chief of Staff for RED. "As one of the early adopters of digital tools, social media and innovative traditional communication in Nigeria's public space, and a key part of the political change in Nigeria over the past year, he is uniquely placed to share insights and answer questions on the lessons learnt and the markers for a more social and connected future."
The event holds on Monday, 22 February at 2pm. It is hosted at the Social Media Week Lagos Masterclass stage, Landmark Event Center, Water Corporation Road, Victoria Island, Lagos.