Ngige debunks death as man slumps, dies in National Assembly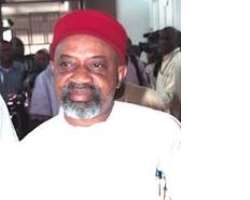 This is just as an online publication has said that it was the Minister of Labour and Employment, Senator Chris Ngige, that slumped at the National Assembly during his ministry's budget defence. Meanwhile, the minister, on his Facebook account, debunked the death rumour, saying he was hale and hearty. The deceased, whose identity was not known at press time, reportedly slumped at the third floor of the House of Representatives about 10a.m.
An eyewitness told Vanguard that the deceased slumped in front of the office of Chairman, House Committee on Police Affairs and efforts by a medical team to revive him failed. Although an online publication had mentioned the name of Senator Ngige as the deceased, Vanguard was told by sources around where the victim collapsed that the man did not look like the minister. The witness, who spoke on condition of anonymity, told Vanguard that the deceased collapsed as he tried to open an office of one of the lawmakers. Another account had it that the deceased, who was described as lanky, fair and in white agbada, may have been a contractor as he was not part of the ongoing budget defence. It was gathered that an aide to one of the lawmakers had tried to revive the victim before the medical team from the Senate wing arrived.
It was further gathered that there was no ambulance to take the person, described as a guest to the National Assembly, to hospital until he was taken in a private vehicle to the National Hospital, Abuja, where he was confirmed dead. Another account had it that the deceased came to see Chairman, House Committee on Police Affairs, Haliru Jika, but slumped while trying to open the lawmaker's door. It was further gathered that the hospital had wanted to carry out an autopsy, but his son said no and took the body to Auchi in Edo State, for burial according to Muslim rites. Meanwhile, Ngige wrote on his Facebook wall, through his Personal Assistant, Nwachukwu Ngige: "Dear friends, please disregard the wicked tissue of lies contained in an online publication about an unfortu-nate incident said to have taken place today at the National Assembly and in which I was said to have been involved."
Vanguard