Turkish college donates to Kano IDPs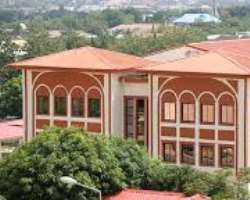 The Nigeria Turkish International College Foundation has donated relief materials to the internally displaced persons in Kano state today.
Donating the items head of the team Alhaji Kabiru Abbas Sanusi said the foundation was primarily aimed at assisting the less privileged in the society.
He said they had decided to donate the items to the IDPs with the aim of alleviating their suffering.
This donation is to assist the victims. We have done that twice before and the foundation will continue to assist where necessary, he said.
Receiving the items, the Hisbah board Commander General Sheikh Aminu Ibrahim Daurawa thanked the donor and urged other organizations to emulate it by donating to the IDPs so as to received a good favour of almighty by helping needy.
He said the IDPs were in dire need of assistance in view of their current condition, saying people should do more to improve their condition.
The commander general solicited the support of the foundation in providing admission to the children of the IDPs in their schools. Items donated include food stuff, clothing materials and shoes.