Suspended Civil Servants Beg Okowa For Reinstatement.....As Okowa's Committee Delay In Submission of Report
…Some Of You Will Have To Make Sacrifice; Okeme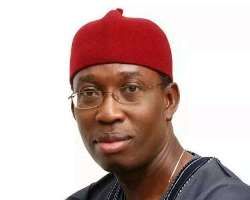 The deferred civil servants which were recruitment and formerly employed by the Dr. Emmanuel Uduaghan's administration but were put on hold by Senator (Dr) Ifeanyi Okowa on assumption of office have appealed to the conscience of the governor to restore them back to their work as it has not been easy with them since their displacement on June 1st, 2015.
In an appeal signed by their Chairman Comrade Obus Regha and Anthony Djele, Secretary and made available to journalists in Asaba, the affected civil servants referred to the circular dated 1st, June, 2015 with reference number GHA 16 Vol. V1/154 which states in Article 1&2 that a committee would be set up to review the whole process and assured that those of them of the state origin who got the job through merit would be called back.
According to them, "we are holding onto this, because we believed that His Excellency's readiness to revamp all structures of institutions in the state despite the scarce resources was for the benefit of all Deltans".
"Since June 1st, till date it has not been easy with those of us who are affected as a result of the suspension placed on our jobs. Parents losing their dignity because of hardship faced because of the suspension as they cannot provide for their dependent and watch helplessly as hunger draw rain around our family members", they lamented.
They revealed that most of them resigned from their previous places of work to accept the offer from the state government as a way of adding their quota to their own state, "crying out aloud, we did not buy our jobs, the commission advertised, we applied, we were shortlisted for interview which we passed and subsequently appointment letter was issued", they noted.
The suspended civil servants called on the governor to kindly review the report of the committee to enable those of them that are of Delta origin to know their fate, "especially now that the lingering election petition tribunal issues are over. Maybe, the delay of his committee report on this subject matter is because of his tight schedule and dwindling economic situation of our nation hence we pray for reinstatement".
The affected workers said they have gone as far to fishing out the non-Deltans among them, "since the committee of His Excellency has not come up with their findings and our report had been long sent to the amiable governor and other government institute in the state without no response so far", they bemoan.
Meanwhile, in one of their visit to the Special Adviser to the governor on Labour Matters, Mr. Mike Okeme told them that for circumstances beyond the Okowa's administration, their employment was put on hold.
Hear him, "putting on hold does not mean that the governor have stopped the employment. As I said earlier we are commending you because you have not taken to the streets to demonstrate and you have behaved yourselves very well in asking government to re-examine your issue and that shows the maturity with which we are commending you".
He continued: "we have heard all the statement and sentiments you raised about the government, especially the commendation of his victory at the polls. It is to enable him settle down fast to look into the teeming problems that Delta has. Be rest assured that your problem especially the employment opportunity given to you, has not been swept under the carpet", this statement aroused a rousing applaud from the suspended workers.
According to Okeme, "what the government has done so far is to cross the Ts and dot the Is. So, any moment from now I am very sure that those that were genuinely employed that passed through the interview successfully and are citizens of this state, I have to emphasize that because so many people have been returned to Delta State from the East saying they are not citizens of those states and we have to absorb them into the civil service as soon as they come to this state".
The SA said the government would want to cater for the teeming population of the state before thinking of other states, stressing that the state was not discriminating against other states but that those of Delta origin would be giving job placement before others.
"Those of us who are from Delta State who are working in Maiduguri, Borno for instance are on contract job, they are not on permanent job and those few jobs are teaching jobs, they are casuals and so we want our children to get permanent jobs. Just as I told you now, the government is aware of your suffering at this moment and a little patient more, you will get the value of your patient as when you will be recall back to resume duty.
He noted that the current Biometric exercise that was ongoing in the state was to check the true position of things in the civil service, "since the arrival of this new government, just as you are aware, the resources of the state is coming down on monthly basis. So government has to justify the huge sum expended on recurrent so that we don't put all the money coming from Abuja into payment of salaries alone. So, the Biometric exercise is to check the volume persons in the system so that we can also check the volume of money leaving the system".
"even if it is not going to be everybody that will be called back at the first installment, in the next recruitment exercise those who were not called back as a result of a local government having 100 and other has 15, the government wants to be fair to all and in doing that some persons have to make sacrifice. I am not saying that you will be the one to make sacrifice, God will not allow you to make sacrifice, you will be happy for it".
He assured them that government was sensitive, knows their yearnings and that government knows what they want, saying that no good government like that of Senator Okowa that has compassionate heart would throw them away with the batting waters when the government knows that the suspended workers have potentials to make the state better tomorrow, cautioning them to remain calm while government does the finishing touch for them.
"Government knows that I belong to both sides, the suffering side and the enjoyment side. I belong to the two sides. Go home and sleep and wait for the result any moment from now some of you will be happy while some others will also wait to be happy. Everybody will be happy, that is why I am also working hard to ensure that the hammer is removed. So behaved well and let us work for you", he reiterated.
Meanwhile, another SA to the governor on media (name withheld) said the governor was only playing on the intelligence of the suspended workers as there was no plan to recall them, "what the governor is doing, is to weaken them by dismantling them into smaller groups".