UN Assistant High Commissioner Set To Visit Nigeria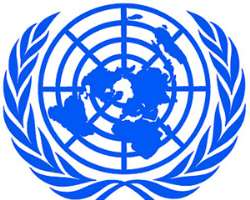 The UNHCR has continued to make unrelenting efforts in addressing the needs and protection of Internally Diplaced Persons (IDPs) in Nigeria. Since the start of the insurgency in 2009, over 2.2 million Nigerians have been displaced from their homes in villages and towns seeking refuge and protection in camps and communities. Another two hundred thousand or more have fled across the border into neighboring Cameroon, Niger and Chad where they live in camps and host communities as refugees under UNHCR Protection.
As a demonstration of the of the will of the UNHCR to further strengthen and broaden it's operations in Nigeria, the UN Assistant High Commissioner for Protection, Mr. Volker Türk, will pay an official working visit to Nigeria from 18 - 22 February, 2016. This visit will be the first Mr. Türk who is the most senior official of the UN Agency responsible for the protection of Refugees and Internally Diplaced Persons (IDPs) will be visiting Nigeria since the start of the insurgency in 2009.
In a Press Statement issued on Tuesday, 16th February by the UN Representation in Nigeria; Mr. Volker is expected to during the visit, discuss with the Vice President of Nigeria, Prof. Yemi Osinbajo and other senior officials of the Buhari Administration in Abuja, before heading to the epicentre of the insurgency in Borno and Adamawa states, where he is also expected to meet with the Governors of both states.
Also, the AHC will hold discussions with officials of the State Emergency Management Agencies (SEMAs), visit and interact with Internally Displaced Persons in camps and host communities, and exchange views with humanitarian actors in the Northeast.
It should be noted that since 2014, UNHCR has significantly increased the scale of its operations in Northeast Nigeria. It established a sub-office in Bauchi in 2015 to oversee the activities of four field units in the most affected states, increasing its staff strength from a mere 11 in 2014 to 60 currently, despite severe shortfalls in its overall funding.
Last year alone, UNHCR touched the lives of over 355,874 most vulnerable individuals in more than 200 protection-related activities. Similarly, UNHCR equipped and sensitized 4,940 stakeholders, drawn from different security agencies and civil society organizations, through 44 training programs in protection, Camp Coordination and Camp Management (CCCM).
Also, 17,534 most vulnerable families were profiled, 20,533 returning Nigerians from neighboring countries registered, 11,408 provided with emergency shelter, while 38,777 were provided non-food items (NFIs).
Mr. Volker, who will be accompanied by the Director, Africa Bureau of UNHCR, Mr. Valentin Tapsoba, and the Regional Representative for West Africa, Mrs. Liz Ahua, is visiting Nigeria at the beginning of a new implementation year when most of the funding challenges for the Nigeria operations remain unresolved, with only 39% of the required funding for last year attained.
The UN Assistant High Commissioner for Protection will meet with heads of the various UN and other multilateral partners and humanitarian agencies in Nigeria after his visit to the Northeast. His visit to the country will culminate in a press conference with the international and national press in Abuja on February 22, 2016 in the UNHCR Conference hall at 61 Jose Marti Crescent in Asokoro /Abuja.
After his visit to Nigeria, Türk will travel to Cameroon, where he will meet with senior officials and UNHCR partners, before flying to the Far North Region of Cameroon to meet with Nigerian refugees at the Minawao Camp, which provides shelter to more than 50,000 refugees.