Joel-Onowakpo Appointed State Coordinators Of FIRS, Gets Accolade From Deltans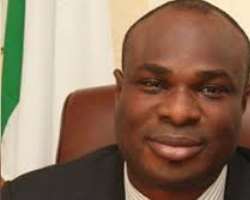 Some prominent Deltans have described the appointment of Hon. Joel-Onowakpo Thomas as Coordinator, Federal Inland Revenue Services (FIRS), by the Executive Chairman FIRS, Mr. Babatunde Fowler, as a well deserved appointment of a man who has the magic wand in tax matter, just as they expressed optimism that he would deliver on his new assignment.
It would be recalled that Hon. Thomas and twelve others were appointed State Coordinators of FIRS. By this appointment Hon. Thomas would serve as FIRS State Coordinator for Delta, Edo and Rivers State.
According to the Head of Communication Servicom Department, Waha Gbadamosi in his statement said that each of the 13 state coordinators would supervise operations in their area of jurisdiction. The appointment takes immediate effect.
Some Respondents in an interview with our correspondents in Warri, said that the appointment of the immediate past Executive Chairman of Delta State Board of Internal Revenue as FIRS State Coordinator was timely, well informed and an appointment of a man with passion, drive, commitment and indeed, zeal for improved revenue generation.
According to Chief Paul John Odhomor a Chartered Accountant of international repute, a business man and Media Consultant, the appointment of Hon. Thomas was timely, and well thought of most especially at this time that the Federal Government budget for 2016 will be funded largely by Internally Generated Revenue.
"I want to say that the appointment is well deserved". We are all witnesses to what he did in Delta state when he was the Executive Chairman of Delta State Board of Internal Revenue. It is on record that he improved tremendously the Internally Generated Revenue of the State and changed the fortune of the Board from being a tenant to becoming Landlord of State of the Art office complexes. I want to sincerely congratulate him and pray that the Almighty God sitting on His throne of grace will continue to be gracious unto him and grant him enormous wisdom to efficiently and effectively deliver on his appointment as usual.
"I also wish to congratulate Mr. Babatunde Fowler the Executive Chairman of the Federal Inland Revenue Services (FIRS) for his vision in identifying and appointing Hon. Joel-Onowakpo Thomas as one of the State coordinators. With this appointment, Mr Babatunde Fowler the Executive Chairman Federal Inland Revenue Services (FIRS) has demonstrated once again that he is a man of great capacity, great wisdom and an excellent Professional. I believe very strongly that he will surpass his records in Lagos state".
Speaking, Comrade Micheal Ikeogwu said that the appointment came at a time the Federal Government is keenly interested on improved revenue generation and it wouldn't have been any other person than Hon. Joel-Onowakpo Thomas, a man who is well equipped with the requisite qualification and experience in tax matters.
"For me, his appointment is a square peg in a square hole. The choice of the Executive Chairman of FIRS was not misplaced. Aside his appointment, I believe he will also be useful to the Federal Government in his drive to diversify the economy because he was at the forefront of Delta Beyond Oil, a campaign he vigorously championed towards repositioning the country to depend on other sources of revenue," Comrade Ikeogwu who is the Chairman of Nigeria Union of Journalists (NUJ) Warri Correspondents Chapel stated.