Okowa Lays Foundation Stone For PDP Guest House...Charge Party Faithful To Be Committed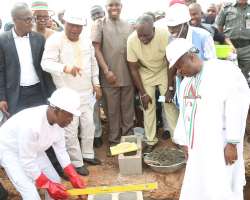 Foundation laying ceremony for guest house of the Peoples Democratic Party (PDP) in Delta State has been laid by Governor Ifeanyi Okowa who described the state as a trail blazer in strengthening political party's structure.
According to Governor Okowa, Delta State plays host to the best political party's secretariat in the country with the completion of the ultra-modern secretariat in Asaba, noting that the party was setting another pace by constructing a guest house for the party.
Senator Okowa who performed the foundation-laying ceremony of the guest house in the presence of the Vice Chairman of the party in the South-South geo-political zone, Dr Cairo Ojougbou; state chairman of the party, Chief Edwin Uzor and other party stalwarts, observed that the main structure of the party was the strength of its membership in the state and urged them to contribute to the construction of the guest house.
"We thank Deltans for their support for the PDP; there is no other state that has the type of Party Secretariat we have in the state; the PDP Secretariat in our state is the best in the country and it is our prayer and hope that this Guest House will be completed during the course of this year", he said, adding, "we know that the greatest structure of our Party is our membership and as it concerns this project, no single person will fund it but, it must be funded by all of us as members of the party; whatever you have, the party will accept it, we should support this project, we should support our party".
The Governor used the occasion to urge all political office holders to be conscious of the fact that the position they were holding was in trust for Deltans, warning that anybody found wanting in his activities would face necessary sanctions.
Chief Uzor in a welcome address said the guest house had become "necessary for members who may sleep over when in Asaba and it will be a veritable source of revenue for the party".
The PDP Chairman called on all PDP faithful to support the project and lauded Governor Okowa for delivering on democratic dividends which had given a boost to the fortunes of the party.