Police arrest 'mad man' with 22 ATM cards, phones, bank tellers in Lagos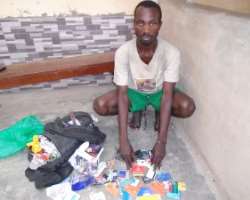 What would be a lunatic be doing with credit cards, phones and bank tellers of recent transaction? This is the question investigators are trying to unravel after the operatives of the Rapid Response Squad of Lagos State Police Command apprehended a suspected lunatic in possession of items that would be strange in the hands of mad men.
The suspect Lanrewaju Jaiyeola, 39 was caught with about 22 Automated Teller Machine (ATM) credit cards, two mobile phones and power bank, in Victoria Island of Lagos State.
According to report, Jaiyeola was accosted carrying a backpack on Ozumba Mbadiwe Road.
It was learnt that his ragged clothing made him pass for one of the ubiquitious mad men in the streets of Lagos, but htat he gave himself away after being sighted in a suspicious manner
According to one of the police men on team that arrested Jaiyeola, "When we sighted him, he appeared like a mentally sick man but we invited him for interrogation, he answered and responded normal to all our inquiries.
"Afterwards, he started straying from the normal course of our inquiries. This raised further curiosity and we decided to check out his backpack. What we found was startling; 22 assorted credit cards, one Nokia phone with flat battery, a blackberry, a power bank, several bank tellers of recent bank transactions, and lots of invoices amidst numerous pieces of paper.
"On further scrutiny, we discovered that eight of the credit cards were still valid. Out of these; three would expire in 2018, another three would expire in 2017 while two would expire in 2016. All the credit cards bore different names and banks," the officer said on condition of anonymity.
In The Guardian's own account, the suspect upon arrival at the RRS Headquarters in Alausa made statements suggestive of somebody disguising as a mad man to perpetrate crime around that axis.
"Initially, we noticed that he was mentally balanced because he was answering the questions posted to him adequately. But all of a sudden, he started sound incoherent and illogical," the officer explained.
The police authority added that there was still more to what they discovered from the supposedly mad man. The suspect has been transferred to Special Anti-Robbery Squad where he will be subjected to further investigations and psychiatric examinations.