Taraba: Supreme Court upholds Gov Ishaku's election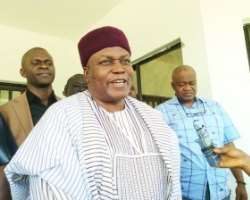 The supreme court once again laid to rest the disputed Taraba State governorship election on Thursday,as it resolved it in favour of Governor Darius Ishaku.
All Progressives Congress (APC) governorship candidate, Hajia Jumai Alhassan, dragged the governor, his party, the Peoples Democratic Party (PDP) before the Supreme Court to challenge the decision of the Appeal Court which upheld the election of Ishaku.
But the apex court held that the claim of the APC and the gubernatorial candidate that Governor Ishaku was not properly nominated by the Peoples Democratic Party (PDP) for the April 11 2015 election lacked merit and substance and cannot be used to invalidate the election.
The court therefore upheld the election of Governor Ishaku on the grounds that the APC and Alhassan cannot challenge the primary election that produced the governor for the poll since their members were not participants in the PDP primary election.
In the lead judgement delivered by Justice Bode Rhodes-Vivour, the apex court held that the claim of the appellants that section 85 of the Electoral Act 2010 was breached in the nomination of Ishaku cannot hold water because they have no locus standi to enquire into internal affairs of another political party.
Justice Bode Rhodes-Vivour announced that reasons of the court for arriving at the conclusion would be made public in detail on February 22.
However, the apex court said briefly that nomination of candidates by political parties is an internal affair of the parties and that only those who participated in the primary election and who are eligible members of the party have legal rights to enquire or challenge the nomination of the party.