Rukky Sanda Donates Fans, Other Relief Materials at LUTH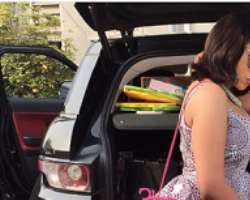 Yoruba actress Sotayo, is a versatile actress that interprets any role given to her excellently.
She is also a producer, an aspect she handles beautifully. The light skin diva is currently on set filming.
However, she shared a glimpse of her role in the movie where she played the role of a born again sister, and she was dressed as one.
Though the title of the movie is unknown, the outfit and her attitude alone gets one laughing, and it just might be an interesting movie that would get everyone talking this year.