Insurgency: No local govt under Boko Haram's control – Buhari insists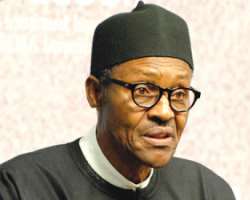 President Muhammadu Buhari on Thursday declared that none of the 774 local government areas in Nigeria is under the control of the insurgents, Boko Haram.
The Senator representing Borno Central, Baba Kaka Garbai, had recently declared that more than 50 percent of Borno State was under the control of Boko Haram.
Borno State Governor, Kashim Shettima and the Nigerian Army had swiftly disagreed with the senator's position.
Buhari, at a joint briefing with the visiting German President, Mr. Joachim Guack at the Presidential Villa, Abuja maintained that the senator's position was incorrect.
He said: 'It is a pity Boko Haram welcomed you by explosions in Maidugiri that took so many lives, but I have attempted to explain in so many fora that Boko haram is not what it used to be.
'While they were firmly holding 14 out of 774 local governments when we came in, they are not holding any local government now. What they have resorted to is using improvised explosive devices to cause maximum casualties on soft targets as they did yesterday, doing what they are capable of doing now,' he said.
According to him, the group can no longer organize conventional attacks on military, police installations or take hold of towns.
He said: 'I think they are not able to do that. They send groups to go and kill vulnerable targets. Having said that, our efforts have to be redoubled to make sure that the people in internally displaced camps have been rehabilitated especially the children.
'More than 60% of the 2 million people in IDPs are women and children and more than 60% of them are children and more than 60% of the children are orphaned. Some of them don't know where they are from, they don't know their parents, this is a pathetic situation the leadership of this government is facing because the least we should is to quickly resettle those children if possible try and identify their neighborhoods, repair the schools health centers and maybe part of the village so that they can get out of the trauma that they are in,' he said.
The President commended the response from G7 in terms of Training teams for institutions.
'Help has been sent but what we do is to try to get our own committee under Gen T.Y. Danjuma which has made some efforts where he himself and Dangote has made some special contributions to start doing something in the field and we asked those who are coming to help, like NGOs from within or outside the country to meet them,' he added.
He also called for the support of Germany to make sure Nigeria emerges a permanent member of the United Nations Security Council (UNSC).
'Outside bilateral, in the United Nations, Nigeria an African country feels that we are qualified by our number, by our size, by our position in Africa to have a seat in the United Nations. We hope that Germany will support us,' he stated
While thanking Germany for the help they extended to Nigeria during the 2015 general elections, he said that his party is in liaison with the parties in Germany, which is basically under humanitarian concern that a country of at least 170 million people with very volatile political
development should find peace.
He also thanked Germany for assisting Nigeria during the Ebola and polio scourge in Nigeria and their help in the IDP camps and North-East.
'We are very grateful for the aid Germany continues to give us through the NGOs and directly to the Federal Government. We also like to mention to the president and their companies that their work are appreciated by Nigerians.'
Speaking through an interpreter, the German President condoled Nigeria for the recent terror attacks in the country.
Commending Buhari for his approach against Boko Haram, he pledged more support of his country towards defeat of the terrorists.
He announced $15 million support for Nigerian's joint forces with neighbouring countries to defeat the terrorists.
He called for renewal of trust and upholding the rule of law in the country.
According to him, Nigeria is playing an important role in the African continent.