CORRUPTION: RESIGN NOW, TMG TELLS BUKOLA SARAKI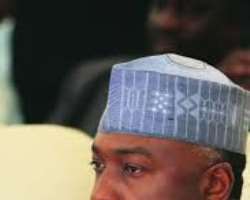 The Transition Monitoring Group has asked Senate President, Bukola Saraki, to follow global best practices by stepping down immediately and face criminal charges on false assets declaration at the Code of Conduct Tribunal.
The Group Chairman, Ibrahim Zikirullahi, while briefing journalists on the current realities in the country, said that Senate President berated the leadership of the National Assembly, describing it as morally challenged.
"That integrity deficit has been accentuated by the recent Supreme Court judgment, which ordered the Senate President, Dr. Bukola Saraki to go face criminal trial at the Code of Conduct Tribunal (CCT).
"Whatever modicum of respect enjoyed by the Senate would be further obliterated by the time the number three citizen is mopping from the dock, and answering to charges of false asset declaration", he said.
TMG, he said, expects Dr. Saraki to put the sanctity of the legislature above every other consideration, by stepping down immediately.
"While we agree that his trial at the CCT does not automatically translate to guilt over the charges, we call on the Senate President to follow global best practice", he said.
The group also took a swipe at the Supreme Court over its judgements on Akwa Ibom, Rivers and Abia States governorship elections described the judgements as a clear Incentive for electoral brigandage, saying the Apex court turned a blind eye to justice.
The group however, said that the 5000 naira conditional cash transfer component in the 2016 budget could have been channel into a well thought out programme of industrialisation targeting Nigerians in the 774 local government areas.