Political Establishment, Hillary Clinton And US 2016 Elections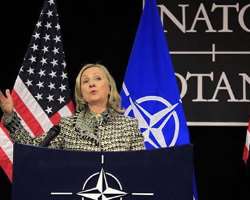 The 2016 US presidential campaign is turning out to be dramatic. Many analystshave predicted a something close to an easy victory for Democratic frontrunner Hillary Clinton to have an easy ride in the primaries. I also recall severally downplaying the chances of Republican top-notch, Donald Trump, in some of my write-ups. I was proven all wrong as the results of recent primaries turned in.
I kept a vigil with CNN as the results turned in on Tuesday night hoping fighter Hillary will turn Bernie Sanders' lead in New Hampshire around only to wake up that morning to know I was living in the world of my dreams-people are "feeling the Bern". Not until I watched my beautiful-looking Hillary concedes defeat to Bernie, I didn't believe it even though the major headline was " New Hampshire primary results: Donald Trump, Bernie Sanders win "!
The US state of New Hampshire held its traditional primary just eight days after the Iowa caucuses. Polling in the Granite State has historically been volatile in the final weeks before the primary. Once Iowa holds its caucuses, many New Hampshire voters are known to traditionally cement their opinions especially in the age of the new media.
The state has a reputation for predicting correctly the winner of the eventual nomination. Historically a look at votes cast in New Hampshire shows a candidate received and won the eventual nomination.
On the Democratic side, since 1992, Barrack Obama (2012), John Kerry (2004), Al Gore (2000) and Bill Clinton (1996) all won at New Hampshire and eventually won the party nomination.
On the Republican side, Governor Mitt Romney (2012), Senator John McCain (2008), Governor George W. Bush (2000 and 2004) and Senator Bob Dole (1996) all won the GOP primaries in the state and became eventual winners in the final analyses.
Let us have a look at how the presidential candidates fared in New Hampshire. In the Republican race, Donald Trump has a clear lead with 34% over Marco Rubio's 11%. On the Democratic side, Bernie Sanders had a clear lead with 60% over Hillary Clinton's 38%.
Let us forget a little about the Republicans and restrict our analyses to the Democrats. I say this because the GOP nomination is still open to more possibilities than their progressive counterparts. If it is not Jeb Bush, it will be Marco Rubio. If it is not Ted Cruz, it should be Donald Trump. But surely the ticket cannot go to Christine Fiorina!
For the Democrats, the ticket belongs to whoever is "feeling the Bern" or "fighting for US". Hillary for America strategists need not be told now that they have grossly underestimated Bernie. They also need not be reminded of the importance of NH primary. They do not need the advice that the time come for a reality check. They cannot continue to rely on Hillary or Clinton to just bring in the votes. Bernie may not be so popular with those outside America, but the results are going on just fine for him. In fact, Bernie's strategists, the truth be told, are doing a fantastic job.
Ina parenthesis, the loss in this year's state's primaryis strange because New England state has long been kind to the Clintons. It is the same state that made, Hillary's husband, Bill the "comeback kid" in 1992. And Hillary beat Barack Obama there in 2008, salvaging her campaign after a third-place showing in Iowa.
Also, the fact that Hillary has about 9% support among younger women, aged 18-34, should concern her handlers because records available show that Bernie cruises home with over 90% support among this strategic population. Whoever invited Madeleine Albright, first woman US secretary of state, to speak at Hillary's NH campaign rally obviously did not do a good job. Let us hear what she had to say on younger women who are not supporting Hillary: "There's a special place in hell for women who don't help each other!"Haba Madam!Na by force?
Well, I have just been reliably informed that "special place in hell" is Albright's favourite line which she has used for many years therefore it is not unique to Hillary Clinton's campaign. Again, even at that, she being a longstanding diplomat, Albright should have been more tactful speaking for a political campaign!
As a Hillary fan myself, I think it will be good if her handlers can look at the New Hampshire debacle from fresh perspectives. President Obama lost in the state after a good start in Iowa in 2008, yet he still won the election. In this case, I suggest her handlers do as they were doing when they started. They need to avoid attacking Sanders directly. The attacks on his campaign from Hillary for America are becoming too direct in recent times.
It appears there is mental fatigue on the part of Hillary's handlers since the Benghazi Inquiry. In my opinion, the handling of that incidence is the most professional thing her campaign has done. Ever since, it has been forthcoming in providing the gap for Sanders to exploit. This only shows mental fatigue on the part of Hillary for America.
While we agree that is not just rocket science, we keep our fingers crossed as the results on these keenly contested primaries come in without engaging in unnecessary prognosis. One thing is sure- US politics will not remain the same after the 2016 election. The results so far show how fast the political establishments are crumbling in both parties if things continue this way. This is where Hillary's campaign staff must analyse the issues from!
Olalekan Waheed Adigun is a political risk analyst and an independent political strategist for wide range of individuals, organisations and campaigns. Email: [email protected], [email protected] Follow me on twitter: @adgorwell +2348136502040, +2347081901080
Disclaimer:

"The views/contents expressed in this article are the sole responsibility of the author(s) and do not necessarily reflect those of The Nigerian Voice. The Nigerian Voice will not be responsible or liable for any inaccurate or incorrect statements contained in this article."
Articles by Olalekan Waheed ADIGUN