Group accuses former president of corruption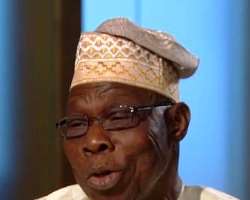 A non governmental Organization under the auspices of the National Taskforce (NATFORCE) has called on president Muhammadu Buhari to probe the regime of Former President Olusegun Obasanjo.
The NGO accused the former President Olusegun Obasanjo of being corrupt, adding that the obasanjo promoted Corruption during his tenure as the president of the country.
The Director General (NATFORCE), Dr. Emmanuel Osita Okereke at a press briefing in Abuja Caution the formal president to mind his business and leave the present Government alone, saying that Obasanjo should stop creating problems for Nigerians.
According to Osita, " Obasanjo converted funds meant for Operation feed the Nation to his Otta farm which he claimed is Criminal and economic sabotage."
"His 8 years rule never created jobs rather promoted crime and corruption."
"The sum of $2.8 million Dollars that was seized in uganda from Nigerian Jet during Obasanjo regime has never been accounted for till date."
"it was during Obasanjo regime that impunity entered Nigeria, he kept businessmen out of business, made contractors raise more money in their quoted bills. He introduced "Ghana Must Go in the Nigerian Politics especially in the National Assembly.
"Obasanjo started rigging election in Nigeria and Corrupted the INEC official. but Buhari Won the 2003,2007 and 2011 elections.
The group also Noted that the key problem Nigeria is facing is corruption and called on all Nigerians to join hands with President Muhammadu Buhari in the fight against corruption.