Financial Fraud, Cross-Border Crimes And The Future Of Nigeria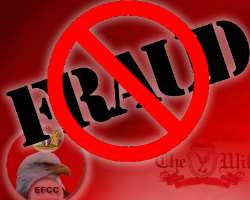 The fact that Nigeria is still intact as one indivisible country, maintaining its leadership position in Africa and not reduced to a banana republic is a miracle. Several things that befell and literarily sank some countries of the world have happened to Nigeria, but it is still standing firm. Little wonder many insist that God is a Nigerian. I do not just believe this; I know it; God is here and is in charge of our affairs, else, it would have been history long ago. But shall we continue in sin that grace may abound? Imagine the figures released here.
Last week, Nigeria's Ministry of Justice, in collaboration with Digital Forensic Limited, Justice for All of the British Council and other stakeholders organized the maiden edition of the Annual Conference on Financial Fraud, Cyber Crime and Cross Border Crimes in Nigeria. Other implementing partners were Forensic Insight International Limited, Nigeria Communications Commission, Nigerian Police Force, Central Bank of Nigeria, Ericsson and IBM.
The event which was attended by major stakeholders, including practitioners, academics and policy makers, was aimed at reviewing current security trends in Nigeria and globally as it relates to transnational organized crimes, cyber security threats, terrorism, money laundering and its impact on national security, critical infrastructure and the financial system. It also gave participants the opportunity to determine the prevalence and patterns, analyze the causes, and proffer policy recommendations on tackling the myriad security issues that confront the international community and Nigeria as well.
The event was declared open by the Honourable Chief Justice of the Federation, Justice Mahmud Mohammed, while keynote speakers were: Hon. Minister for Justice/Attorney General of the Federation, Abubakar Malami (SAN) and the British High Commissioner to Nigeria, His Excellency, Paul Arkwright.
In his opening remarks, Chief Justice of the Federation, Justice Mahmud Mohammed gave a frightening statistics on the devastating financial effect of cyber fraud and financial crimes and called for action, through the prioritization and reform of relevant laws of the land. Hear him:
"A report published in 2010 by the Internet Crime Complaint Center, which is a partnership between the United States of America's Federal Bureau of investigation (FBI) and National White Collar Crime Center, revealed that Nigeria was ranked third among the list of top ten sources of Cybercrime in the world, which at 8% ranked behind the US (65%) and the UK (9.9%). Unfortunately, our country is perceived as having carved a niche as the source of what is now popularly called 419 emails, named after Section 419 of the Nigerian Criminal Code (Cap. 77, laws of the Federation of Nigeria 1990). This publication also ranks Nigeria as first in the African region as the target and origin of malicious cyber activities."
"The correlation between cybercrime, fraud and money laundering and other emerging crimes such as terrorism, human trafficking and drug smuggling cannot be overemphasized. Kofi Annan International Peace Keeping Training Center, Paper No. 12 of May 2006, recognized the challenge of cross border crime in West Africa as including trafficking in small arms and light ammunitions, 'mercenarism', human trafficking and the use of child-soldiers in armed conflict. Others are trans-national syndicates involved in crimes such as peddling of hard or narcotic drugs, armed robbery and 419 activities, money laundering and the smuggling of goods."
He also made a strong case for the improvement of the skill set of investigative and prosecutorial agencies, "while providing the requisite resources to our agencies in order to mount more comprehensive, intelligence-led, technology driven crime detection and prevention initiatives."
In his keynote address, Nigeria's Attorney General and Minister for Justice, Abubakar Malami SAN, identified the impact of organized criminal activities on Nigeria's Economic growth and Security.
According to him, "trends and statistics as reported by the Central Bank of Nigeria (CBN) indicate that on the average, Nigerian banks loose huge amounts of money annually to different forms of cybercrime and cyber criminals. The total estimated loss incurred by the financial system alone from 2012 to 2014 could be more than N65b or USD321,689 million."
"Another area of organized crime in Nigeria is illicit funds flow. Illicit funds flow is the transfer of illicit funds through illegitimate sources. A report compiled by the presidency in 2013 identified a total of over $33.144 billion (20.6 trillion) illicit flows during the period 2000-2013, of which over $7.456 were proceeds of corruption and embezzlement in Nigeria. As you all know, illicit funds transfer has a number of severe effects on a country like Nigeria. It drains the country's foreign exchange reserves, reduces tax base, increases poverty levels, increases insecurity as a potential source of terror funding and hurts the country's international image."
"The common crimes that confront Nigeria today include terrorism/terrorist financing, cybercrime, fraud, money laundering, corruption, kidnapping, trafficking in illicit drugs and persons, armed robbery, oil theft, sexual exploitation of young persons, all of which threaten Nigeria's economy and make Nigeria unattractive for investment."
On the present administration's Justice Reform Initiatives, Malami identified several interventions, among which are: "Establishment of an inter-agency justice and security reform committee (Justice Sector Reform Coordination Committee) with a mandate that recognizes the interconnectedness between security, economy and justice to Nigerians. This committee would drive the implementation of the bulk of our reform initiatives."
On law and Regulatory Review, the AGF stressed: In the last one month, the Honourable Attorney General has been working with a team of experts and has transmitted four critical anti-corruption related bills- the Nigerian Financial Intelligence Center (NFIC) Bill that will domesticate the full remit of the FATF Recommendation 29, the Proceeds of Crime (POCA) Bill, the Money Laundering (Prohibition and Prevention) Bill, and the Mutual Legal Assistance in Criminal Matters Bill to President Buhari for further transmission to the National Assembly. Two of these bills- the Money laundering and the Mutual Legal Assistance bills were read on the floor of the Senate and House of Representatives on 27thJanuary, 2016. These bills will not only support the policies of this administration in combating corruption and stolen asset return, they would also respond to the requirements of the Financial Action Task Force (FATF) and international conventions. In the coming days, the team will submit more bills to President Buhari for transmission. The proposed bills are: Whistle-blowers Bill, Police Reform Bill, Prisons Reform Bill, Terrorism (Prevention and Prohibition Repeal) Bill. The team is also reviewing investment related bills that would be presented for enactment into laws in the coming weeks and months. There are several other initiatives, including the establishment of Justice Sector Reform Fund, Legislative intervention, Judicial Intervention, Public/Stakeholder Engagement, Human Rights Enforcement, among others."
Also in his address on United Kingdom's perspective on anti- corruption, British High Commissioner to Nigeria, Paul Arkwright, argued that financial crime is dependent on corrupt practices.
"International financial crime is dependent on corrupt practices. There are also well known links between corruption and terrorism. Corruption creates an environment in which organised crime, people trafficking and drug smuggling thrive. Nigeria and the United Kingdom stand together in fighting all these criminal elements, but my focus today is on fighting corruption."
"Corruption is one of the greatest challenges of our time - a challenge Nigeria is unfortunately all too familiar with. Addressing that challenge is essential to the future of this country. Failing to do so will mean further decades of poverty, inequality, reputational damage overseas, massively reduced external investment and an undermining of the huge potential represented by Nigerian youth."
"Most crime is committed for profit. Depriving the criminals of their profits is a key aspect of tackling their illegal activities. In the same way that starving a thriving small business of capital hampers its growth, removing assets from criminal enterprises can also disrupt those illegal activities."
"So, there is no better time for our two countries to fight together against corruption. From only a short time here as High Commissioner, it's already clear to me that President Buhari and Prime Minister Cameron share a determination to root out this blight on the growth of our economies, the health of our societies, our national and collective security, and even the integrity of the sports we love."
On the United Kingdom's support to Nigeria in the war against corruption, Arkwright explained:
"Tackling corruption requires systems to be in place, attitudes in society attuned to the effort and a process to investigate, prosecute and sanction. Institutional reform is at the heart of all of these elements. The UK is supporting Nigeria in all these areas. The political environment and personal example of the President gives a superb opportunity to take the necessary action. As part of its bilateral aid review, DFID is considering a significant upscaling of UK support. In the past 5 years, the UK Government has contributed £7 million under the Justice 4 All (J4A) programme to build capacity of the anti-corruption agencies and help Nigeria in the fight against corruption. Justice 4 all is one of the sponsors for this event."
"UK Support has boosted capacity in: Drafting new legislation to underpin the fight against corruption; Building capacity to investigate and prosecute cases; Stimulating greater public accountability through civil society; Operational support delivered by the National Crime Agency in country to numerous Nigerian agencies."
On the way forward, he identified passing of complementary legislation as necessary. "It is encouraging that President Buhari recently requested the National Assembly to consider and approve the Money Laundering Prevention and Prohibition Bill and the Mutual Legal Assistance bill. I hope other complementary legislation like a Proceeds of Crime, Nigerian Financial Intelligence Centre and Terrorism Prevention act will be prioritised in a similar way. The Proceeds of Crime Act legislation will do much to support the process for the return of assets seized outside Nigeria. UK is committed to the return of such assets and officials visited Nigeria last week to discuss this process. I am aware of criticism –unjust though it may be – that the UK has not returned Nigerian stolen assets quickly enough. As you will appreciate, there are legitimate legal hurdles which need to be overcome, but we are looking actively at how we can accelerate that legal process. In any event, recent actions by the UK law enforcement agencies demonstrate clearly that there is no impunity in the UK for those who seek to conceal stolen assets in the UK."
Speaking on Effective Policing and National Security, Nigeria's Inspector General of Police, Solomon Arase identified National security as essential to enjoying the dividends of democracy.
"Achieving National security however, is a function of the contribution and participation of all citizens." He identified Cybercrime and Transnational crimes as major threats to National security, even as he called for synergy between strategic-security stakeholders.
In her overview of Measures to preventing, detecting and deterring Money laundering and terrorist financing, former Director, Nigeria Financial Intelligence Unit, Juliet Ibekaku spoke on the need for the strengthening of the legislative framework against Corruption and money laundering.
According to her, a strengthened legal framework will enhance the Money laundering and terrorism/terrorist financing war and guarantee the security of the nation.
In his presentation titled: Financial and electronic fraud: legal and regulatory approaches to protecting the integrity of Nigeria's Financial Systems, Nigeria's Central Bank Governor, Godwin Emefiele warns that: "Banks are required to report employees dismissed on account of fraud and forgeries. The CBN maintains a 'blacklist' of such employees and in line with section 48, Sub section 4 of the Banks and Other Financial Institutions Act (BOFIA) LFN 2004, such staff are no longer eligible for further employment within the banking industry."
In a paper titled: Cybercrime and Impact on National critical Infrastructure and National Economy: Nigeria's Response, presented on behalf of Nigeria's National Security Adviser, General Babagana Monguno (Rtd) by Engineer Shariff Lawal, the need for the establishment of the Cybercrime Advisory Council, tasked with the responsibility of formulating and providing general policy guidelines for implementing provisions of the Cybercrime Act 2015 was reiterated.
"The way forward in reducing Nigeria's risk-profile in the cyberspace entails: adopting a national and international collaborative approach to cyber security, with all stakeholders working together and sharing information about cyber threats; expedite the implementation of Cybersecurity policy and strategy. "The biggest risk to cyber security is an ignorant or careless user who does not know when he is putting himself or his organization at risk. Therefore, improving pubic understanding of cyber security and cybercrimes is key to mitigating its threats. To address the current persistent threat to online presence of MDAs and LEAs, there is need for a government policy stipulating minimum-security standards for the creation, operation and management of government websites and ICT Infrastructure."
In his paper on the performance of regulatory framework in stemming institutional financial fraud and abuse in Nigeria, President, Institute of Chartered Accountants of Nigeria, Otunba Olufemi Deru explains: "The global recognition of the evils of fraud and sharp practices has brought to the fore the need for all resources managers to be united in the anti-corruption crusade of the government. One way of winning the battle is through the creation of fraud awareness. Employees must be made to realize that fraud will only enrich perpetrators and endanger the financial survival of enterprises in both the public and private sectors of the economy. If frauds are undetected or not prevented, the livelihood of everyone will be destroyed permanently with severe consequences for the immediate and extended families."
Speaking on Adjudicating Fraud, Corruption, Cybercrime and Transnational Organized Cases in Nigerian Courts: Challenges and Recommendations for Improvement, Justice A.A.I. Bankole of the Federal Capital Territory High Court, Abuja, called for the Central Records Registry to be accessible to all law enforcement agencies and justice partners, while ensuring regular training and retraining of investigators and prosecutors.
On the need to decongest the courts, she recommended that: "Retired Judges should be employed and engaged in decongesting the backlog of cases before the Court. The introduction of Part Time Judges from Senior Advocates; Improved working conditions for Judges, such as the employment of Information technology in the Court system. The Constitution should be amended to include a provision that a defendant facing weighty criminal charges should not be allowed to continue or aspire to hold public office until the determination of the substantive trials and appeals. This will ensure the absence of delaying tactics and aid effective disposition of the cases."
A major highlight of the Conference was the breaking out into sessions by participants, who brainstormed and made far-reaching recommendations, among which are the speedy passage of the Nigeria Financial Intelligence Center (NFIC), Proceeds of Crime Agency (POCA), Mutual Legal Assistance (MLA) and other related bills; establishment of Cyber-security division in every government Ministry; equipment of law enforcement agencies with forensic laboratories, manned by core professionals; development of a national policy on terrorism; establishment of a National Cyber Security Architecture to be linked to the Central Bank of Nigeria; regular training and retraining, among others.
Whether relevant authorities will implement the recommendations/outcome of the Conference or not is the main crux, or will stakeholders assemble next year to discuss the same issues and make similar recommendations?
Ultimately, if the recommendations are not implemented, it will end up like any other talk-shop in Nigeria. The only way to secure the future and security of Nigeria is by taking forward progressive resolutions reached. Stakeholders interaction should also be more regular.
It is time for action!
Disclaimer:

"The views/contents expressed in this article are the sole responsibility of the author(s) and do not necessarily reflect those of The Nigerian Voice. The Nigerian Voice will not be responsible or liable for any inaccurate or incorrect statements contained in this article."
Articles by Walter Duru