Buhari's exchange rate policy doomed to fail, says Sanusi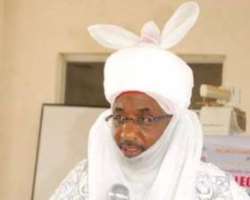 The Emir of Kano and the immediate past governor of the Central Bank (CBN), Muhammad Sanusi II, has warned that President Muhammadu Buhari risks exacerbating Nigeria's economic woes and undermining his government's achievements on security and corruption by endorsing exchange rate policies that are doomed to fail.
Speaking in an interview with the Financial Times in his palace in Kano, Sanusi expressed disappointment that Buhari's strong security and anti-corruption efforts are being overshadowed by a monetary policy regime with 'very obvious drawbacks that far outweigh its dubious benefits'.
The Sanusi interview was published by the Financial Times, just as the Managing Director of the International Monetary Fund (IMF), Christine Lagarde, during an online question and answer session with journalists in Washington, United States, said Nigeria needs to adopt a 'sensible' foreign exchange policy as it strives to fend off external economic shocks.
Sanusi lauded Buhari's removal of 'wasteful and corrupt fuel subsidies', but argued that the current foreign exchange policy endorsed by the president encourages similar rent seeking and corruption which trailed the subsidy regime.
'He (Buhari) has put an end to the [crude] swap regime which is also one side of rent-seeking and corruption…he has made the NNPC start producing accounts, so there is greater transparency,' Sanusi told Financial Times.
'These measures are good for the economy and display strong political will to change the system. But getting monetary and fiscal policies right will be crucial for broader progress in structural reform.' FT quoted the emir as saying the president's anticorruption stance was 'totally inconsistent' with the foreign exchange regime he supported, adding that it 'encourages corruption and rent-seeking similar to the fuel subsidy regime'.
The emir, who was CBN governor from 2009 to 2014, expressed his displeasure with the monetary policy regime which he said has 'very obvious drawbacks that far outweigh its dubious benefits'.
'Unfortunately, because the exchange rate is right out there in front now, monetary policy is being seen as the barometer for broader economic thinking,' he said. 'It is sad that on this one policy you get it so wrong that you risk taking away attention from everything else you are doing.'
Sanusi who resisted devaluation during his own tenure as CBN governor said he did so because he 'had reserves of over $40bn and an oil price at over $110,' admitting that there are no easy ways out of the current situation and 'devaluation is a bitter pill'. The country's economic woes were now being exacerbated, with the currency peg and restrictions in the foreign exchange market creating 'a lot of speculative and precautionary demand,' Sanusi argued.
Exporters and investors 'are holding on to foreign currency, as no one would sell at the rate the government is setting', while 'the government does not have the reserves to keep the exchange rate at its official level in the market'.