MOHAMMADU BUHARI: The Messianic Salvager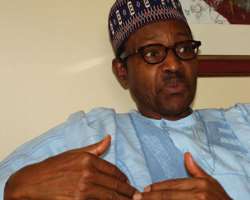 Many harsh reactions trailed President MOHAMMADU BUHARI's address in the European Union Parliament plenary session, both in the print and social media by Nigerians when he hailed ex-president Goodluck Ebele Jonathan for conceding defeat. He also restated commitment to rescuing missing Chibok girls and reuniting them with parents. While some annotators and commenters lashed him with condemnation, calling him a pretender, dictator and ' fulani mumu '- the most disrespectful vulgar language lambasted on the Mr President, others commended him, thereby encouraged and prayed for him.
Just as beauty lies in the eyes of the beholder, so is BUHARI perceived by Nigerians with different impressions. It is pertinent to aver at this time that President Buhari is a man of purpose who tackles national issues with all seriousness; not unrelenting. It has become diaphanous truism that there are many acute odds working against Buhari, ranging from the devastating fall of crude oil in the world market to the spate of terrorist attacks, especially the heartless Boko Haram insurgents who roast human beings and take pleasure in killing, pipelines vandalism by the militants in the Niger Delta region, Biafran agitations in the South-east for self-rule, the prevalent injustices inherent in the judicial system pervaded by corrupt Justices, the antagonistic tendencies by the faithfuls of the opposition parties, just to mention a few. But this visionary leader is never deterred by what the surrounding says. This man is the finger of God on Nigeria and not about Buhari or the Party he belongs neither is it about Goodluck Jonathan conceding defeat; it is divine, it is about God salvaging the country. No wonder in his acceptance speech, he said: " I belong to everybody, I belong to nobody ". This statement is perfectly realised in his total neutrality and non-interference in the adjudication of the gubernatorial cases in the Supreme Court.
The civil strife envisaged during the presidential election was averted not necessarily because of Goodluck Jonathan as a person, but as God wanted it. God made Goodluck Jonathan played to His script. Whatever that happened after that election is God's answers to Nigeria cries. Goodluck Jonathan had no option, but to yield to the will of heaven. Yes, he did so well by obeying the voice of reason and God has blessed him afterward. But the point is that, do Nigerians realise that MOHAMMADU BUHARI is God sent messiah to clean the country from the filth of corruption and usher in a new orientation from the old path of decay? According to a commenter, Peter Babajide, he said: "May his case not be like Jesus and the Israelites or Moses and the Israelites ". This biblical induction reminds us the pains of the Israelites for four hundred years. They prayed and God sent Moses, but they rebelled against him and God. They said that their pains were more comfortable while in Egypt! That Moses should have left them there. In case of Jesus, they never believed His ways and teachings and, so, crucified Him, but later discovered that He was the Messiah they have yearned for. People like BUHARI come in a lifetime; they are ready to sacrifice their lives for justice, equity, transparency and accountability.
We must accept the fact that " CHANGE " does not come on a platter of gold, but at a price not on a roller coaster ride. The path to liberty, corruption free society, should not be tied to tribal affiliations, religious bigotry, party identity, ' I am south-south or Niger Delta or northerner ', not about a certificate, but God's will for Nigeria. We must accept all help in rebranding this country, collaborate with Mr President to actualise this vision of restoring Nigeria and to leave political or tribal sentiments aside. Corruption is the roof in which other vices revolve. And, it is only a dogged fighter and a visionary leader who does not care about his own life that can confront this monster headlong. We found one in MOHAMMADU BUHARI. It depends if Nigerians are aware of this fact!
Divramredje Lawrence Efeturi

Disclaimer:

"The views expressed on this site are those of the contributors or columnists, and do not necessarily reflect TheNigerianVoice's position. TheNigerianVoice will not be responsible or liable for any inaccurate or incorrect statements in the contributions or columns here."
Articles by Divramredje Lawrence Efeturi