The Nigeria Police: Part One - @Disturbingafrik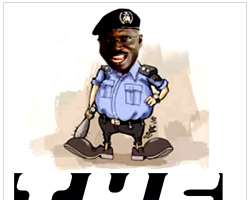 The Federal Government of Nigeria will fight her citizens in the news and still fight them in real life, using the Nigeria Police. The way Nigerian soldiers humbly respect citizens make me wonder why the unfriendly Nigeria Police "shine" with them.
We presently live in a country where a police man reports to his superior on a self-suspected criminal or defenseless 'murderer' he killed, who had no form of attack against him, the Nigeria Police.
The number of road blocks set by the Nigeria Police at expressways have surpassed the required number of obstacles in marathons with hurdles, turning travelling in Nigeria to racing. In minor cases, their tortoise-like characters as tax collectors, assigned by no one, show how unprofessional the Nigeria Police can be, (indirectly collecting wages from salaries of government workers, civil servants, humanitarians etc.)
Major cases recorded have shown the Nigeria Police has caused injuries and deaths of innocent citizens they call their friends.
They tell us police is "your friend" but the fear for the Nigeria Police is so terrifying to the extent that one who does "actually" have a policeman as a friend has the tendency to misbehave, threaten and constitute nuisance probably because he or she thinks having a police friend makes him or her powerfully invincible.
The Nigeria Police has no basics, not willing to advance and can only settle for plenty beer and "isi ewu", mostly with unknown women at local beer parlours all over the nation while observing break times on duty days.
At times, they apprehend a culprit only to settle off on their way, having them favoured before getting to their designated police stations.
The Nigeria Police do not care about the activities in cells, prisons and jails where they dump their suspects and convicts, thereby, promoting unwarranted physical combat, rape, homosexuality, etc. among inmates; a case in point is that of the 16 year old secondary school boy who was remanded and doctored (ie; the Nigeria Police said he was 19 years upon arrest) at Kirikiri prison Lagos where he got raped severally by over 100 inmates, for one full month.
To be continued...
By @disturbingafrik©
Copyright©. All Rights Reserved.
Warm Regards,
DisturbingAfrik Team.