Court orders Tompolo's arrest after no-show in court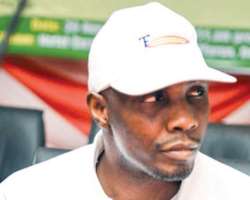 A Nigerian court on Monday set a new deadline for the arrest of former Niger Delta militant leader Government Ekpemupolo, after he again failed to appear to face theft and money laundering charges.
Judge Ibrahim Buba said Ekpemupolo, popularly known as 'Tompolo', had 'refused to honour an invitation for investigation'.
'A new order for his arrest is hereby given,' he added.
Ekpemupolo is one of 10 defendants, including a former head of Nigeria's maritime security agency, named on a 40-count indictment brought by the Economic and Financial Crimes Commission (EFCC).
He is one of the most high-profile former leaders of the Movement for the Emancipation of the Niger Delta (MEND) that attacked oil and gas facilities in the oil-rich south in the 2000s.
He is facing 14 counts of theft and money laundering between 2012 and last year totalling just over $175 million (157 million euros).
Judge Buba had previously ordered Ekpemupolo's arrest on January 14 but the defendant's lawyer, Tayo Oyetibo, claimed in court on Monday he had not been properly served with the summons.
He was overruled and ordered to produce his client in court on February 19.
Prosecutor Festus Kayemo told AFP the new high court order had triggered a nationwide search for Ekpemupolo to ensure his arrest and appearance in court.
'The accused and his legal team should realise that there is a new sheriff in town who abhors impunity,' he added.  '(Former president Goodluck) Jonathan created outlaws and untouchables in the system. (Current President Muhammadu) Buhari is out to dismantle all that.'
Fear of a backlash by former militants in the Niger Delta may be behind the failure to arrest the powerful Ekpemupolo, according to observers tracking the case.
Supporters of the former MEND commander are believed to have been behind a series of attacks on pipelines in the south last month, prompting fears of a fresh round of unrest.
The rebels, who were fighting for a fairer share of oil revenue in Africa's number one crude producer, laid down their arms as part of a government amnesty programme introduced in 2009.
Some, including Ekpemupolo, went on to be awarded lucrative government security contracts to protect the oil and gas facilities they once attacked.
But it is alleged such agreements were often used as a front to steal money. The amnesty programme, which involved monthly stipends for training and education, is gradually being wound down. – Vanguard.