Media Round Table By Human Rights Writers Association Of Nigeria (HURIWA)
....Shittes/Military: HURIWA Blasts Iran; Amnesty International For Meddlesomeness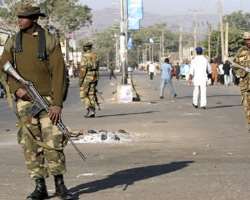 A frontline Pro-Democracy Non Governmental Organization -HUMAN RIGHTS WRITERS ASSOCIATION OF NIGERIA (HURIWA) has lambasted the Iranian Ambassador to Nigeria Mr. Saeed Koozechi and the United Kingdom- based group Amnesty International for their meddlesome and unnecessary interference with the proceedings of the different investigative panels set up by both the National Human Rights Commission and the Kaduna State government to unravel the circumstances surrounding the recent fracas between the Zaria based Islamic movement known as Shiites and the Nigerian Army.
HURIWA said Iran has no moral rights to criticise the panels investigating the incident and allegations of extra legal killings during the encounter between the Army of Nigeria and the local Islamic group because according to the Rights group Iran has the most notorious human rights records Worldwide following the constant suppression of free speech and Iranian government's clampdown on prodemocracy campaigners.
The Nigerian Rights ORGANISATION-HURIWA said it was unbecoming of a diplomat of Iran to launch unwarranted media attacks on the Sovereign nation of Nigeria and for attempting actively to railroad Nigeria into what measures to adopt to resolve her internal social and security dynamics when it is very clear that Iranian government wouldn't tolerate such meddlesome interlopers in matters concerning Iran.
HURIWA has therefore called on the Nigerian Foreign Affairs Minister to take stern diplomatic measures to reprimand this recalcitrant Iranian Ambassador and check any subterranean plots he may have hatched with his Nigerian affiliates to endanger Nigeria's national security interest.
With the increased spikes by the armed terrorists in Nigeria, we are hereby asking the Nigerian government to treat all allegations of interference by foreign country as a breach of National security because it is inconceivable how the terrorists have continued to get supplies of weapons.
"Iran mustn't be allowed to dictate to a Sovereign nation of Nigeria on how to use constitutional mechanisms to resolve internal conflicts when such arise. His provo cative statements on the recent Shiite Islamic movement and Nigeria Army's encounter recently which led to unfortunate casualties is wholly and substantially dubious and must be looked at strongly as a threat to our Sovereignty. "
HURIWA recalled that Iran had described the continued incarceration of the leader of the Shi'ite Islamic Movement in Nigeria, Ibraheem El-Zakzaky, as illegal and unfair.
HURIWA said IRAN'S notoriety for human rights violations is ruthessly unprecedented and that the United Nations Human Rights Council has recently condemned the widespread abuses of human rights of Iranians and foreigners by the Iranian government just as the Rights group wondered why the Iranian Ambassador should celebrate high level of hypocrisy when he should focus on improving the international human rights image of his country.
HURIWA said thus: "The World is aware that in Iran Journalists are randomly arrested or prosecuted and religious and ethnic minorities also continue to face violations of their rights, both in law and policy. Members of the Bahai faith are systematically deprived of the rights to university education, state employment and business licenses".
HURIWA also faulted the position of Amnesty International which criticised the inclusion by the Kaduna State government of Representatives of the military and paramilitary in the judicial commission of inquiry set up by the Kaduna State government on the Zaria clash between Shiite Islamic movement and the Nigeria Army. HURIWA said the inclusion of few members drawn from the Armed forces even when some of those nominees are retired is to create plurality and far reaching determination of the remote and immediate circumstances surrounding that unfortunate incident which the Army blamed on the attempts by suspected armed members of the Shiites movement for plotting to assassinate the Army Chief Lieutenant General Tukur Buratai.
HURIWA asked Amnesty International to allow local investigative mechanisms to complete their assignments before jumping to conclusions. "Whilst Nigeria tries to resolve the crisis it's sad that Amnesty International is pouring fuel literally on the fire of discord which these panels are set up to resolve comprehensively ".
HURIWA recalled that Iran had described the continued incarceration of the leader of the Shi'ite Islamic Movement in Nigeria, Ibraheem El-Zakzaky, as illegal and unfair.
According to the Islamic Republic of Iran, El-Zakzaky- who suffered gunshot wounds during the Nigerian Army's December 2015 clash with the Shi'ite sect- 'shouldn't be kept in detention for a long time'.
Speaking on behalf of the Iranian government was the country's ambassador to Nigeria, Saeed Koozechi, during an interview with journalists on Tuesday in Abuja.
Koozechi said: "The Shi'ite is a small minority group in Nigeria, they engage in peaceful religious activities, they are not harmful to anyone. We have never heard of unrest and extremism from the Shi'ite followers in Nigeria.
"The Zaria incident is unfortunate and regrettable. We hope the investigation and prosecution will be fair and transparent. We hope the government will assist those who suffered financial losses during the clash.
"We don't believe the continued detention of El-zakyzaky is legal or fair, he shouldn't be kept for a long time. We look forward to seeing his release and his wife soon. The Shi'ite is Nigerians too and they have rights like other citizens. The government must be clever to not pour fuel on fire. Recognizing the rights of minorities is a real value to social development."
HURIWA thinks strongly that Iran has taken a step too far and the Nigerian federal government must view this as a dangerous precedent and undiplomatic. We urge the Nigerian government to immediately expel this diplomat from the Nigerian soil.
Iran should not be allowed to play a neo-imperialistic role in Nigeria. The legal mechanisms within the Nigerian federation must be allowed to run their full course without any foreign intervention just as we believe and hope that all those detained would be given their quick dispensation of justice and respect of their human rights. Whilst we advocate that no Nigerian citizen must be detained unduly without recourse to the rule of law, in the same vein we call on the Nigerian government to be firm, decisive and resolute in resisting any subterranean plots of Iran to subvert Nigeria's national security interest. We call for rapid resolution of any pending questions surrounding the recent fracas between Shiites and the Nigerian military.
We note with shock and consternation that Iran for a long time has been known for sponsorship of terrorism around the world so we expect that those saddled with the constitutional role of protecting the territorial integrity of Nigeria must be up and doing and not stand by and watch as the Iranian diplomat misuses his official privilege to stoke the embers of discord within and amongst the divergent Nigerian community. What the Iranian diplomat has done amounted to a breach of the time honored code of conduct for diplomats in foreign territory because the Nigerian Embassy in Iran is not known to have so openly ridicule the Iranian regime even when that nation is notorious for human rights violations of her citizens and has severally subjected foreign tourists to unmitigated rights violations. What this diplomat has done by issuing this provocative media statement on Nigeria's purely internal affairs is a violation of the United Nations code of conduct for diplomats as contained in the Vienna Declaration.
The UN Vienna convention on Diplomatic Relations of 1961 is an international treaty that defines a framework for diplomatic relations between independent countries. It specifies the privileges of a diplomatic mission that enable diplomats to perform their function without fear of coercion or harassment by the host country. This forms the legal basis for diplomatic immunity. Its articles are considered a cornerstone of modern international relations. As of April 2014, it has been ratified by 190 states.
Article 9 states: "the host nation of any time and for any reason can declare a particular member of the diplomatic staff to be a persona non grata. The sending state must recall this person within a reasonable period of time or otherwise this person may lose their diplomatic immunity.
*Comrade Emmanuel Onwubiko is Head of Human rights Writers association of Nigeria and blogs @ www.huriwa.blogspot.com , www.rightsassociationngr.com , www.huriwa.org .