#We Ain't Criminals, Your Excellency!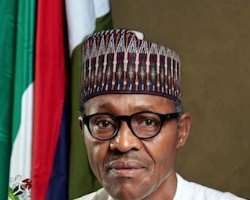 'Nigeria's president has warned his fellow citizens to stop trying to make asylum claims in Britain, saying that their reputation for criminality has made it hard for them to be "accepted" abroad'' reported The Telegraph on February 5, 2016.
I am so disheartened at the slur that reportedly emanated from Nigeria's Ethics Policeman and Commander-in-Chief, our chief representative to the whole world. In a comparative analysis, crime is a behaviour in which individual obtain resources from others by use of brute force, fraud, or stealth. People who commit these despicable acts, doubtless, intentionally harm others for their own gain whilst certain crimes bring about one's elevation to the social stratum.
We shall now identify the root causes of crime. According to the former New York Police Department Commissioner, Patrick V. Murphy, the root causes of crime are poverty, unemployment, racism, poor health care, bad housing, weak schools, mental illness, alcoholism, single-parent families, teenage pregnancy and a society of selfishness and greed. These social maladies, amid others, are all byproducts of misgovernance which are prevalent in our society today.
As some African leaders ascend the social ladder by 'intentionally harming others', it is considered not a crime. While some say It is daring to steal a fortune, some say it is a mark of greatness to steal a crown; fortunately or unfortunately, the blame diminishes as the guilt increases. I am doubly sure Nigeria's Ethics Policeman would fail every integrity test in this regard though often whitewashed by his apologists and partisans.
He has been in one way or the other involved in crimes and criminal conspiracies. To violently overthrow a democratically elected government, the law says, anywhere under the sun is high treason, actionable and consequently punishable. He led a ''successful'' coup at the tail end of 1983; like a marriage that has been annulled had the sovereign wishes of over 170 million Nigerians bastardised. On December 31, 1983, Buhari, an accessory after the fact of treason stole a crown and thus rode to greatness. The life of that junta was cut short in 1985 via a putsch that had his name faded into oblivion for nearly three decades.
In the interim, Buhari's behaviour and remarks were characterized by violently obtaining resources from others by use of brute force, ''if what happened (nothing unusual did) in 2011 repeats itself, the dogs and the baboons will be soaked in blood'' With this remark, Africa's most populous nation sat on the keg of a gunpowder as chaos ominously hung in the air, the atmosphere reek of violence and blood, Africa and indeed the world waited for the worst human catastrophe in history which the violence he threatened would spark off in the run up to the 2015 presidential election, but the wisdom of his predecessor saved Nigeria and indeed the West African subregion from degenerating into another Syria.
Buhari never won the 2015 presidential election after all. His 'victory' was nothing short of a criminal conspiracy likened to the Sicilian Mafia bound by oath of omerta calling to mind the gross electoral malpractices and irregularities that took place in the desert northern city-states of Bauchi, Kano, and Sokoto where polling stations swarm with underaged voters, the camera, it is said, cannot lie; they were caught in the act. This would have made enough evidence to have the victory of Muhammadu Buhari upturned had the incumbent President gone progressively to contest the results in the nation's apex court in Abuja.
Against all odds, he was allowed to assume the reigns of power. All criminal behaviours involve the use of force, fraud, or stealth to obtain material or symbolic resources. Self-styled grandees who commit white collar crimes, like he did, appear more self-centered and indifferent to the sufferings of other people. The President did say Nigerians propensity for criminality has made it hard for them to be accepted abroad.
Focusing on criminality in this regard rather than political-legal definitions also allows us to finesse the perplexing problem of why some acts are defined as crimes while similar arguably more damaging acts - white collar crimes which he has been traced to him and his cohorts - are not. Evidence abound where Buhari shields his cronies and party partisans from criminal persecution and these, I dare say, are the real criminals. Does that not make him an accomplice? Then why on earth would one throw stones while one lives in a glass house?
''We will make the country ungovernable for President Jonathan'' - a statement which reeks of criminality credited to certain grandees of northern extraction on whose backs he rode to power. This is a crime that has its high cost with direct physical, material, and emotional injury, perhaps even more tragic, however, is the indirect damage to society. Contentious as these issues seem are central to conflict theories of crime. The sad events that characterised this period in our nation's history saw the mass exodus of Nigerians abroad from their homelands.
Buhari as Nigeria's number one citizen, went to England, granted a press interview and told the world that Nigerians he rules over with a caprice have a propensity for criminality! Soon after the interview was published in The Telegraph it went viral and made news headlines around the world thereby setting us on a collision course with our host communities. This is real bad! President Buhari must tender an unreserved apology for this slur on the reputation of Nigerians and especially on Nigerians in the Diaspora who have managed to escape from the harsh effects of bad governance at home. His administration is not better after all!
It is not only undeniable but also, incontrovertible that the present Abuja regime has no clue to the hydra-headed problems bedevilling Nigeria but only focuses on systematically deeper power relations between competing interest groups with little or no feasible policy alternative to regenerate the country. So why in the name of ten devils would Your Excellency label us as Homo sapiens with a propensity for criminality before our host communities knowing full well what that will amount to in the long run? Have you come with a solution or still a part of our problems?
Iyoha John Darlington, a social activist, political analyst and public commentator on national and global issues writes from Turin, Italy
Disclaimer:

"The views/contents expressed in this article are the sole responsibility of the author(s) and do not necessarily reflect those of The Nigerian Voice. The Nigerian Voice will not be responsible or liable for any inaccurate or incorrect statements contained in this article."
Articles by Iyoha John Darlington