DSS to Dasuki: you left the army without resigning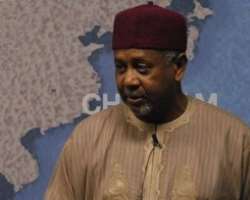 The Department of State Service (DSS) has filed new charges against the embattled former National Security Adviser, Sambo Dasuki.
The embattled ex-Colonel of the Nigerian Army left the service without proper resignation.
Dasuki is currently fighting the fight of his life to wriggle his head from a alleged corruption enmeshed dealings and diversion of $2.1 billion meant for purchase of arms for the Nigerian Armed.
The new move by the federal authorities was revealed by Rotimi Jacobs at the last hearing of the suit against the retired Colonel at Federal Capital Territory, FCT High Court last Thursday.
According to Jacobs, the refusal of government to set the former NSA free, in spite of the bail he has been granted by three different courts is connected to his military past.
The prosecuting counsel had told the court that Dasuki was a fugitive, having ran away from the Army without proper resignation.
In addition he said that the ex-NSA is being currently held by the Department of State Service (DSS) on alleged breach of army service rule.
Jacobs specifically told the court that Dasuki went on an exile for seven years and that during the period he allegedly breached the army service rules.
Reacting to the turn of events, Ahmed Raji, Dasuki lead counsel disputed the claims saying his client legally left the Army in 1994 and his exit in the military was officially gazetted by the Federal government through the former Head of State, General Abdulsalami Abubakar in 1999.
Raji (SAN) therefore claimed that the allegation was a fallacy and a concocted lie to confuse the court as the prosecution has no answer to the well-grounded objection raised by the defence.
In his claims he said: "the allegation of fugitive against Dasuki cannot hold water on stand in the face of the law in view of the official gazette of the Federal Government that confirmed his retirement from the military.
"It is curious that the prosecution counsel who initially claimed ignorance of the reason behind the denial of bail is now coming up with these excuses… I am tempted to believe that my learned friend Mr. Rotimi Jacob SAN must be genuinely mixing-up facts or mistake of identity."
"The allegation is baseless, unwarranted and malicious because his exit was in the gazette of the Federal government. We accordingly urge those holding Dasuki in the custody in flagrant disobedience to the court order that granted him bail to have a rethink and respect the rule of law."