Nigerian Curriculum Has Been Bastardized—Yusuf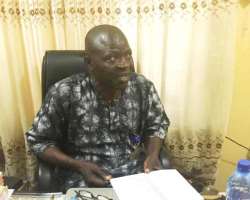 Dr. Abdulraheem Yusuf is the National Secretary, Social Studies Association of Nigeria (SOSAN). He is also the Sub-Dean on Students' matter at the University of Ilorin, Unilorin. In this interview with campus reporter, Olawale Odeyemi, he speaks on the challenges facing the Nigerian educational system and thereby chatted a way out through urgent curriculum review.
What is SOSAN and what are the factors responsible for its current formidable position among bodies of associations within the Nigerian Educational System?
SOSAN is the Social Studies Educationists Association of Nigeria. It is a professional association organized by and for all the people who believe in the principles of social studies education. It is an organization of learners, teachers, educators, curriculum developers, writers, as well as qualified educational practitioners in the field of social education and other related disciplines.
To what extent has SOSAN contributed to Educational Development in Nigeria, and what is her proposed plan to resolve the current challenges within the formal sector?
You will recall we recently held our 31st National Conference at the Emmanuel Alayande College of Education, Oyo State. The theme of the conference was premised on the emerging trends in culture that promotes national unity in Nigeria. The essence of this conference is to solve the security challenges and crises confronting the Nigerian nation in the hands of various radical movements.
The basis of these problems is as a result of distrust in ourselves because we feel we are different from one another. Hence, SOSAN sees itself as an organization that can promote this national unity by bringing people from different part of the country together and rob minds because the essence of everything is to jaw-jaw rather than to war-war.
This is because the discussion, the interaction can promote national unity. People from different culture have come together and they have explained the various aspect of the Nigerian culture and those aspects that will bring about our unity rather than our disunity. Therefore, SOSAN is out to see that Nigeria remains an indivisible nation with one destiny and everybody will see himself or herself as a Nigerian rather than a member of one ethnic group or the other.
What is the driving force behind SOSAN activities and what role has it played in promoting, peace and National Unity within the country?
It is a combination of all people shared common values of social education. The driving force in SOSAN is the commitment and sacrifice of all her members. SOSAN has it members cut across 29 states of the federation including members from Borno State. What this means is that even those people who are in this areas we have crises are also looking for ways of solving their problems. If we can discuss the emerging trends in languages, in dressing, laws and traditions et al, it will become evident that Nigerians are one; one people with a common goal.
What are the expectations of SOSAN from the President Muhammadu Buhari led administration; will you say his emergence signifies a new down in the Nigerian Educational System?
We have observed the bastardization of curriculum by the immediate past administration where five subjects have been brought together under one common subject as Religion and National Value. This Religion and National Value is made up of five subjects that are not compatible. For example, you have Islamic Studies and Christian Studies, Social Studies, Civic Education and Security Education.
Social Studies, Civic Education and Security Education can be merged together. The problem is bringing Islamic Studies and CRS together with Social Studies. The question is who will teach what? On the other hand, Social Studies is an integrated subject but Islamic Studies and Christian Studies are never integrated. They can't be integrated but can only remain as a single subject.
Therefore, we want this government to revisit this curriculum review and ensure that only subjects that are related are brought together. There will be no problem if Social Studies, Civic Education and Security Education are brought together because these are subjects that can be integrated together since the content of Civic Education and Security Education are drawn from Social Studies Education. So it is just like emphasizing aspect of Social Studies that we feel will be of immense assistance to promoting democratic values in Nigeria. To this end, President Buhari should find a way of bringing educators, educationists and professionals together and see how we can revitalize our curriculum in the Nigerian educational system.