Tension in Akwa Ibom as Supreme Court decides on Emmanuel, Umana case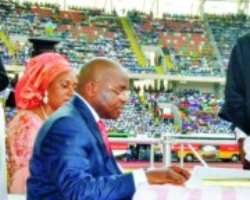 There is palpable tension in Akwa Ibom as the Supreme Court is expected to deliver final judgment on the governorship election petition between the Peoples Democratic Party (PDP) candidate, Mr. Udom Emmanuel and his All Progressives Congress (APC) opponent, Mr. Umana Okon Umana, today.
In an earlier ruling, the Election Petitions Tribunal sitting in Abuja, nullified the governorship election in 18 out of the 31 local government areas.
Not satisfied with the tribunal judgement, both parties headed to the Court of Appeal in Abuja. At the Appeal Court, the PDP prayed for a reversal to status quo ante, the APC wanted total nullification to set the tone for a fresh election in all local government areas.
On December 18, 2015, the Court of Appeal granted the APC's wish when it nullified the April 11, 2015 election and ordered a rerun. Following the judgment, the PDP kicked against the ruling and headed to the Supreme Court.
Since the case moved to the Supreme Court especially as sought by the PDP, there have been diverse pre-emptive expressions of faith in the integrity of the court to deliver judgment that would be favourable to the party concerned.
As judgment beckons today, Akwa Ibomites are cautiously expectant that judgement will be served by the supreme court.
-Emmanuel Ikechukwu