Why we transferred Father Mbaka: Catholic Church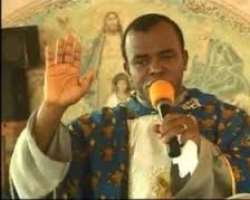 The Catholic Church has explained the recent  transfer of  controversial Catholic priest, Rev. Father Ejike Mbaka from Enugu to Emene.
The Church said the essence of his transfer was to make him more   useful.
In a reaction through the Secretary-General of the Catholic Secretariat of Nigeria, Reverend Father Ralph Madu, yesterday, the church said the posting was not meant to be punitive but a "normal church procedure.""  His posting should have been a privilege, not a punishment – which the Bishop can do because he has the power.According to him,  "Mbaka's transfer  is not an exception; the Bishop has the right to post any priest wherever he feels his service would be more useful to the church.
"If he (Mbaka) says it's a punishment, then it's open for further investigation. Posting is a regular thing, a priest can be transferred after two, three, four, or more years. It depends on the discretion of the Bishop.
"That ministry (Adoration Ministry) is his private ministry. It does not belong to the church. Overseeing a parish is a full time job. Overseeing a ministry is a bigger task. If the church decides to take him somewhere where he'll have more time to carry out his ministry, how is it punitive? That should not be the language."
Madu said Fr. Mbaka had done things that were unacceptable to the church in the past but received no punishments for them.
He said: "He is supposed to be a missionary. What if the Bishop had closed down the ministry , which is within his power to do? Sometimes, transfers can be for the good of the priest as something can be going wrong which he might not be aware of. The Bishop is free to move any priest at any time, it is his prerogative."
Criticisms had greeted the Enugu Diocese's recent decision to transfer Mr. Mbaka out of Christ the King Parish , GRA, where he had served for  over a decade and had established a popular prayer ministry, the Adoration Prayer Ministry.
Fr  Mbaka is to resume immediately at his new post at the Our Lady Parish, Emene. The priest, who is as fiery as he is controversial, had described his  re-posting by the church as a "calculated move" to make him suffer."
Vanguard