Mercy Aigbe steps out in female Agbada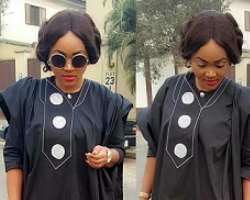 Fashion is getting better day by day, fabulous designs keeps surfacing from creative minds.
Few years back no one would have imagined that Agbada would be a style for women, but here it is and it has come to stay for good.
Agbada was naturally men's clothing, but it is now one of The trending styles for women. Many celebs has been spotted rocking female Agbada, and recently Nollywood actress Mercy was spotted on one.
Mercy Aigbe is The CEO of Mag Divas, a boutique.She is a fashionista due to her lovely dress sense, and she always slays in anything she wears.The female Agbada she rocked recently was no Exception as She paired the black Agbada with a red shoe,giving it a classy look.