Okowa's CPS Engages In Lopsided Selection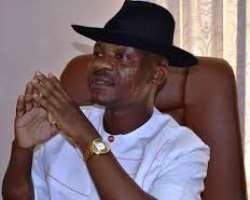 Mr. Charles Ehiedu Aniagwu, Okowa's CPS
Another allegation of disproportion is currently rocking Mr. Charles Ehiedu Aniagwu, the Chief Press Secretary (CPS) to Senator (Dr) Ifeanyi Okowa, governor of Delta State over the way and manner he has allegedly chosen to manage the press in the state.
Only a section of the media in the state, particularly those from the national dailies and some of their journalists' friends from the community newspapers are carried along while others are relegated to the background.
This alleged collation of names by Mr. Aniagwu is coming after the state council of the NUJ has submitted a compendium containing the names of practicing journalists in the state to the governor as ordered by the national body of the union.
For the first time in nine months since Okowa was sworn-in on May 29, 2015 journalists would be allegedly locked out of government house from attending and covering the very first press briefing of the governor and subsequent events that would be held in government house.
It was reliably gathered that the CPS has allegedly collated the names of some hand-picked journalists to cover government house events, those he thinks would raise dust and in turn directs them to the Public Relations Officer (PRO) government house, Mr. Harold Orji, to submit their passport photographs.
Our correspondent learnt that Okowa may brief the press next week and only those whom Mr. Aniagwu, has allegedly collated their names would be allowed to enter the Executive Chambers, the venue of the briefing.
Sometimes late last year, unconfirmed news sparked in some quarters that apart from government house correspondents and selected reporters from the national dailies other journalists would be allegedly stopped from entering and covering Okowa's activities in government house.
A chapel chairman (name withheld) said "very soon accreditation will take place and I will see where all of these junks who call themselves journalists will gain access into government house to cover events".
Following the alleged collation and submission of passport photographs, an act presently causing a crack and spilling of fire, heads of various chapels under the Nigeria Union of Journalists (NUJ) and their members who were excluded are to showdown with the CPS.