Customs Marine Command destroys 350 cartons of poultry products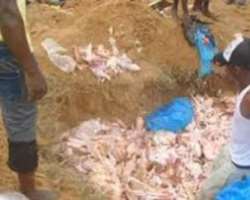 The Western Command of the Nigeria Customs Service (NCS) in Lagos destroyed 350 cartons of poultry products valued at N1.1 million.
The News Agency of Nigeria (NAN) reports that the destruction was carried out on the sideline of the visit of the Zonal Coordinator of NCS, Zone `A', Mr Eporwei Edike, to the command on Friday.
The Controller of the command, Comptroller Yusuf Umar, said the poultry products were intercepted along Joforo axis, Badagry creeks.
The controller said the command had intercepted 8,581 cartons of poultry products since the introduction of Operation Hawk Descend.
"Apart from 8,581 cartons of poultry products which the command intercepted in 2015, it also intercepted 350 cartons of poultry products in January.
"Operation Hawk Descend has also assisted the command to be on top of our duties,'' Umar said.
He said that the command intercepted 41 seizures of various items in 2015 with a Duty Paid Value (DPV) of N72. 71 million
The controller said that there was 78 per cent increase in value of seizures recorded in 2015 compared with 30 seizures valued at N28. 82 million recorded in 2014.
NAN reports that the intercepted items were scrap metals, rice, vegetable oil, Premium Motor Spirit (PMS), frozen poultry products, condensed milk, wine, wooden boats, pumping machines and out board engines.
The zonal coordinator urged officers to protect the nation's waterways from smugglers of the poultry products.
"There is danger in consuming the smuggled poultry products because the products are usually preserved by the smugglers with formalin,'' Edike said.
He described formalin as chemical used in embalming corpses and some chemical products.
The zonal coordinator commended officers of the command for doing a great job, adding that smuggling of poultry products had been reduced to the barest minimum.
Edike, however, urged officers of the command to assist the Comptroller-General, Retired Col. Hameed Ali in achieving his mandate.
He advised officers of the command to take instructions from the area controller in order to excel.